Re. Letter of Proposal (LoP) for Funding
To Whom It May Concern, I hope this letter finds you great. I am writing this letter to propose a project which includes providing educational services to the far-flung areas of [mention the target area you want to work]. There are no opportunities to acquire basic education in the areas mentioned due to a lack of awareness, illiteracy, prevailing health conditions, and poverty. Along with other working NGOs, we have decided to shake hands with them to work on the sector of education.
To achieve these goals, we are looking for sponsors who would be able to raise funds for the project. It will not only get your contribution to the noble cause of humanitarian well-being but will market your business as well. With this funding, we will be partners to work together to achieve the goals of providing basic education through seminars, surveys, research, and conferences with the country ministries.
Through this project, we will be able to conduct research in far-reaching areas and conduct surveys to get a clear idea of facts and figures. By the time of budget allocation, these facts will be presented to the relevant ministry in the parliament which will, then, direct further work on this. We want the establishment of educational institutes and consideration of those kids into the streamlined education system.
To achieve this, we need to conduct wide research which will cost [mention the estimated cost] for the specific goals of the research. This cost will be used to pay researchers and other expenses included in this research. With this funding, we assure you of full marketing of our partnership on all media channels and newspapers. This will be a bilateral attempt at the noble cause of education.
We would love to answer if you have any questions related to the project. We will make sure that this project remains highly transparent and works in close alliance with your team. We are looking forward to hearing from you at your earliest convenience. Thank you.
Sincerely,
[NGO Name]
[Address]
[Signature with Designation]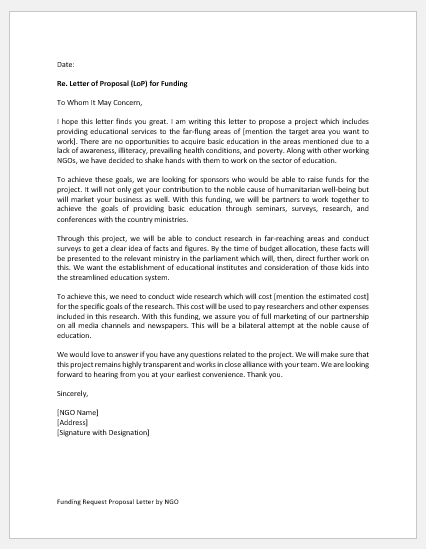 #2
Subject: Funding Proposal Letter by [Name of the NGO]
Dear [Name],
I at [Name of the NGO] am delighted to write you this letter to propose funding for the project which strives to lessen the gap between gender disparities by working on women's empowerment and eradication of violence by making them independent and capable of earning a living. In this project, we are searching for the area most stricken by gender-based violence and targeting that population to eradicate this issue.
This project includes;
Wide research on the area most stricken by the problem of gender-based violence
The question-based survey in the area and looking for the literate people among them
Providing counseling to both men and women on the consequences of gender-based violence
Counseling women by informing them of their rights and the legal protection they can seek.
Providing them with the opportunities and funds to earn a living from their home or hometown
Purchasing tools and goods for the women that can help empower them, e.g. sewing machines, etc.
Escalate the issue to the media channels and ask for their full cooperation.
Through his project, we will be able to free those women from violence and create an awareness that will spread further to eradicate the menace. To bring reality to the project we want you to fund [mention the cost] which will be ultimately used for the expense which comes with the execution of this project.
If you have any further questions, please do not hesitate to ask. The proposal is open to different suggestions and negotiations. We will provide you with the ultimate benefits of marketing by making this alliance public. For more, write to us at [email address].
Thank you
Sincerely,
[Name]
[Designation]
[Name of the NGO]
[Authorized Signature]