Re. Vacating Notice for [XYZ] / due to [X]
Dear Mr. [Name], I am your tenant, [name], writing to you to notify you of vacating your house. I have been living in your house since 20XX. During my stay in this building as a tenant, I always enjoyed the property like my own house. I was very lucky to find a house that is spacious and filled with aesthetic balance. The house has enough space and is well-ventilated.
I spent [X] years in this house, and it was one of the best buildings I have ever lived in. Your cooperation throughout this process was amazing and worthy of praise. I always loved your company as a neighbor too. Your habit of giving space to your tenants and making them feel comfortable with the new accommodation is great.
Recently, I have been transferred to [name the city] in another branch of my office. It will be very hectic to commute from one city to another city. Therefore, I'm planning to shift myself to [name the city]. I have been looking for fine accommodation there and I hope I will find good accommodation in a week or two.
In this letter, I serve the notification of announcing vacating this building within thirty days. No house building will match the perfection of this house. I will also miss the quality time we used to spend every month.
I request you send my advance deposit to the given account number after I leave the house. I'm very thankful to you for your kind behavior.
Regards
[Name]
[Signature]
[date]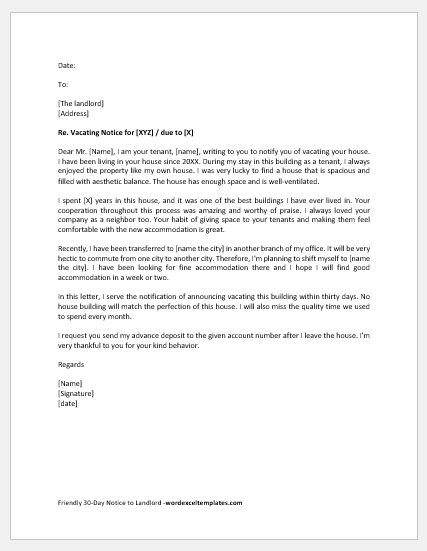 Sample -2
Re. Thirty-Day Notice of Vacating the Tenancy
Dear [Name],
On [date], our lease agreement comes to an end on [date] and I do not plan to extend the agreement as I'm leaving the place due to certain reasons.
First, I'm getting married in two weeks. After getting married, I plan to shift to my husband's place. Second, I'm switching my job from software management to the marketing sector. I believe I can seek better career opportunities in marketing than in tech services. Third, I'm an explorer and adventurer. I Love exploring new places, new residencies, and new colonies. Therefore, I want to leave this place and do not want an extension in the lease agreement.
I lived in your apartment, and it was one of the most amazing residences I have ever lived in. You were a great landlord and kind human being. I always loved your company as you were always a considerate and well-mannered person. I'm closing the letter by thanking you for your kindness and patient temperament. There were times when I used to pay my rent late due to delays in salary and other such matters, I remember, you always remained calm and very patient.
Also, I will be grateful if you send me my advance payment in my bank account as I will be leaving this place on [date]. Please let me know if I need to follow any formal proceedings in this regard. Thank you.
Please find the rental agreement copy attached for your convenience.
Regards
[Name]
[signature]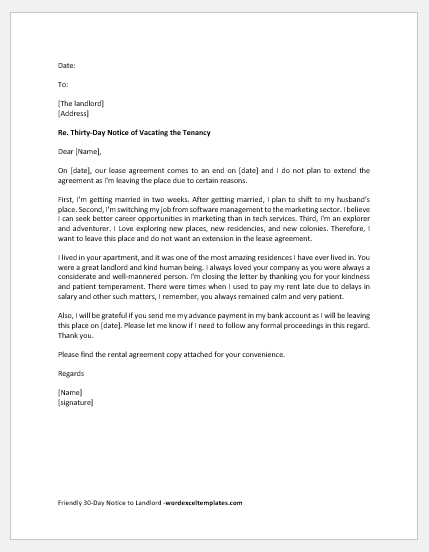 See also: