Everyone needs to write the explanation letter in the job sooner or later. When you have been invited to attend the meeting for making some important decisions but you couldn't attend it for some personal problems, writing an explanation letter for not attending the meeting can solve many problems.
Intentionally or unintentionally sometimes we cause inconvenience for others. By writing an explanation letter for not attending the meeting, you convey a message to the reader that you understand the inconvenience they have experienced because of you. When you understand the perspective of the other party, you develop a strong bond with them.
The main purpose of writing this explanation letter is to make the other party understand the reason for not attending the meeting and it also encourages the other party to forgive you for not participating so that they can continue a good relationship with you and can move forward.
What are the tips for writing explanation letter?
Explanation letter includes the reason for being absent from the meeting and it also includes a statement of apology
No matter what the reason was, you should always admit your mistake in the letter.
Take hundred percent responsibility on yourself for not being able to attend the meeting
Also, mention that how you are going to solve the problem and rectify the mistake.
Sometimes the explanation letter aggravates the situation when one party blames the other.
When the explanation or apology doesn't sound genuine, the explanation letter becomes useless. You should avoid giving a number of lame excuses in the letter rather stay stick to a point and explain it.
Regardless of the purpose of the meeting, it is important for you to apologize apart from explaining the reason for an absence. In other words, the purpose of writing the explanation letter is not only let the reader know about your reason for the absence but also to apologize. The wording of letter should be clear and formal because sometimes the explanations become more controversial because of not choosing right words
Letter
Hope you're enjoying the great weather.
I just called you in to inform you about my medical conditions. I know we have a very important meeting next week. I was looking forward to it, but I will have to excuse myself from this meeting due to my health. As I mentioned before, I was on medication but after the recent visit to my doctor, he has put me on strict bed rest and a change in medicines as well.
I have instructed John to help you with the presentation and take any notes for me as well. you can reach me any time over call or email should you need my assistance.
Thanks for your support.
Preview and Details of the Letter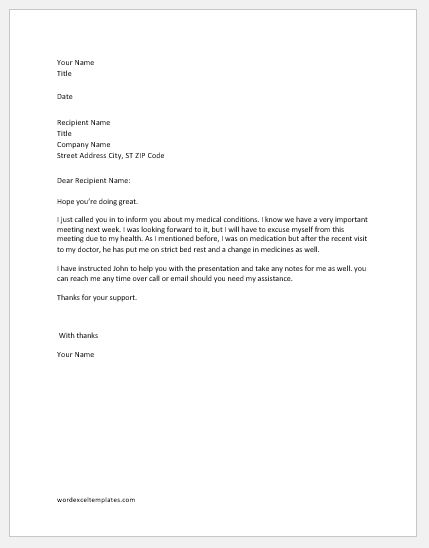 Letter Template
File: Word (.doc) 2003+ and iPad 
Size 27 Kb | Download
[Personal Use Only]