It is not something easy to write the explanation letter for the absence of a child from school. You are required to write a strong and impactful explanation letter.
This letter is either written to the teacher or principal of the institute. The absence of students from class is not bearable for most of the institutes.
Institutes ask for the explanation when the child is absent from the school without sending leave. If the student remains absent from the class for many days without getting permission, he is required to write an explanation letter to explain the reason for staying absent from class.
Tips to write the explanation letter:
Keep the letter short. The explanation does not mean long details. You are required to provide a precise and to the point explanation that can deliver the full meaning.
Write the reason for child's absence in clear words. Make sure there is no ambiguity in the reason given by you. Write the reasons very politely especially when you are going to share your personal reasons.
Make sure that you have written the explanation letter properly. An improper explanation letter may lead to miscommunication.
How to write the explanation letter?
Start the letter with the description without glorifying the facts.
State that you know the child has missed some important lectures and you are really concerned about it. Tell the reader that you will compensate the loss of the child's studies.
Explain the solution to the problem.
End the letter with the hope that the teacher will listen to your problem and will put possible efforts in rectifying the problem.
It is not necessary that the parents of the child should write this explanation letter. This letter can be written by the child. The relevant documents should also be attached to the letter.
For example, if your explanation is about your sickness, attach the medical certificate with the letter. This certificate will be attached to the letter in support of your explanation for being absent from the school.
Sample Letter
Dear Ms. Cabin,
How are you?
I hope you will be doing great at school. It has been long since I had a meeting with you. I am writing this letter to you regarding Emily's absence from school. As you know, she is much occupied in evenings with her tennis classes. And this year, she will be playing at the interstate level, which I find a big achievement for her age.
During her practice session on Monday, she got a very bad knee injury. We had to rush her to the doctor instantly. We are glad that she did not suffer a fracture and only a muscle strain. The doctor has advised her to avoid any energetic activities. So, I decided to not send her to school for a few days. She is recovering very well and will be back to school soon.
With thanks
Mrs. Maroney
Preview and Details of Template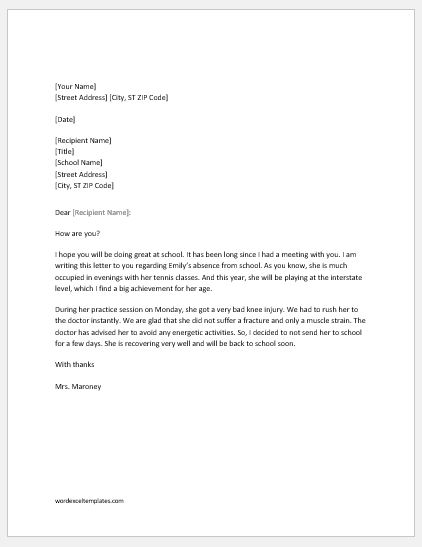 The Letter Template
File: Word (.docx) 2007+ and iPad 
Size 29 Kb   | Download
[Personal Use Only]