The sickness of a human being is a natural phenomenon and almost every person goes through it. The students also get sickness once in a while due to which it becomes impossible for them to appear in class. They may have to see the doctor or may want to rest on the doctor's advice.
The teacher also understands that any person can get sick. However, if the student could not come to class when there was an important meeting or a very important lecture he is expected to attend the school.
In such a situation, the student is expected to apologize to the teacher who is seriously angry about the absence of the student. The academic success of the students totally depends on their behavior. He gets good grades if he will obey his teachers.
Writing an apology letter is the best way to show that you are concerned about your absence from school. Writing this letter is very beneficial for the student. An apology letter can help the student in the exam when he is required to have a high percentage of presence in class.
Tips for writing an apology letter for absence from school:
Start the letter with a statement of apology to make the reader know that you are guilty of informed absence from class.
Mention the date on which you were absent from school.
Give a brief description of your sickness.
Tell the reader that you are ready to compensate for the loss that occurred due to frequent absentees.
End the letter with a thank you note for providing you the opportunity to study in the said institute.
Show full hope that the teacher will allow you to sit in the class as well as in the exam.
There should not be a grammatical or spelling mistake in the letter.
Make sure that you have formatted the letter in a professional way.
Try to write the letter in an impactful way so that the reader will be impressed and will think to accept your apology.
Sample Letters
#1
I am proposing this letter to seek your forgiveness to remain absent from school without informing you. I humbly apologize for not following school rules but I was rushed into circumstances that I could not find time to inform you. I was admitted to the hospital because of a viral infection I got at a family gathering. I was kept on heavy medicine doze to regain normal health. Although I have been discharged still my immune system is very weak. I get notes from class groups daily and once I get better I will cover the entire syllabus.
#2
Kindly accept my apology for not attending school for a week. I want you to forgive me for this as I did not remain absent for intentional purpose. As you know that I am the part of school's hockey team and we daily practice it for an hour. On [mention date], after practice, I got an allergic infection on my skin. I consulted a dermatologist and he suggested isolating me for seven days. I was in severe pain for this reason I could not inform you. I am not fully recovered now and there are some symptoms of it still left. I am hopeful that in a few days, I would be able to join school again.
#3
On account of an extreme ailment, I could not attend school for five days and I am sorry for this. I was out in Manchester to attend my cousin's wedding. On coming home, I got diarrhea and had a lot of water retention. I was taken to hospital and remained a night there. The doctors strictly suggested I take liquid food and avoid junk food. It took me three days to get back to a stable position and now I am feeling better. This was so unethical of me that I did not inform you on time. I hope you will forgive me. Thank you for always being cooperative.
#4
Respected Sir, I am Ralph Mike, and writing this apology letter for informed leave. I am a student in 8th grade and due to a head injury, I remained absent from school for ten days. I was playing cricket with my brother when suddenly I got fainted and fell on the ground. I sustained a head injury and my brother rushed me nearby doctor's clinic. I got seven stitches on my head and the doctor devised me complete bed rest. I should have let you know about it but I completely forgot it. I hope you will understand my situation and will forgive me.
#5
I am a student in 10th grade at your school. I am penning down this contrition message on account of remaining absent from school without informing prior. I was suffering from high fever and cholera and it had made me extremely feeble. I could not get out of bed for three days. I missed important lectures but I had got them in written form from my classmate. He was kind enough to send me notes on a daily basis. I know I have to work harder to cover the syllabus.
Sample Letter
Dear Ms. Antonia,
I hope this letter reaches you in the best of your health.
I am very sorry I was not able to attend school for the last two days. I should have informed you in advance. But it all just happened so suddenly that I did not get time to get in touch with the school management. As you know I practice swimming every day. I got infected with a disease in the swimming pool. By the time I got back home, I was running a very high fever.
My doctor has prescribed me some very beneficial antibiotics. I am sure by following the prescription, I will recover very quickly. I have been in touch with some of my class fellows. I am certain that by the time I am back to school, I will not be left behind in any of the subjects.
With thanks
Jamie
Preview and Details of Template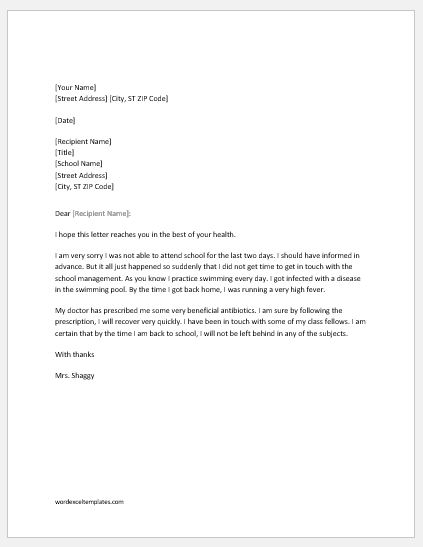 File: Word (.docx) 2007+ and iPad 
Size 29 Kb