The sickness of a human being is a natural phenomenon and almost every person goes through it. The students also get sickness once in a while due to which it becomes impossible for them to appear in class. They may have to see the doctor or may want to do rest on doctor's advice.
The teacher also understands that any person can get sick. However, if the student could not come to class when there was an important meeting or a very important lecture he is expected to attend the school.
In such situation, the student is expected to apologize to the teacher who is seriously angry on the absence of the student. The academic success of the students totally depends on his behavior. He gets good grades if he will obey his teachers.
Writing an apology letter is the best way to show that you are concerned about your absentees from the school. Writing this letter is very beneficial for the student. Apology letter can help the student in the exam when he is required to have a high percentage of presence in class.
Tips for writing an apology letter for absence from school:
Start the letter with the statement of apology to make the reader know that you are guilty of informed absence from class.
Mention the date on which you were absent from school.
Give a brief description of your sickness.
Tell the reader that you are ready to compensate the loss occurred due to frequent absentees.
End the letter with the thank you note for providing you the opportunity to study in the said institute.
Show full hope that the teacher will allow you to sit in the class as well as in the exam.
There should not be a grammatical or spelling mistake in the letter.
Make sure that you have formatted the letter in a professional way.
Try to write the letter in an impactful way so that the reader will be impressed and will think to accept your apology.
Sample Letter
Dear Ms. Antonia,
I hope this letter reaches you in the best of your health.
I am very sorry I was not able to attend school for the last two days. I should have informed in advance. But it all just happened so suddenly that I did not get time to get in touch with the school management. As you know I practice swimming every day. I got infected with a disease in the swimming pool. By the time I got back home, I was running a very high fever.
My doctor has prescribed me some very beneficial antibiotics. I am sure by following the prescription, I will recover very quickly. I have been in touch with some of my class fellows. I am certain that by the time I am back to school, I will not be left behind in any of the subjects.
With thanks
Jamie
Preview and Details of Template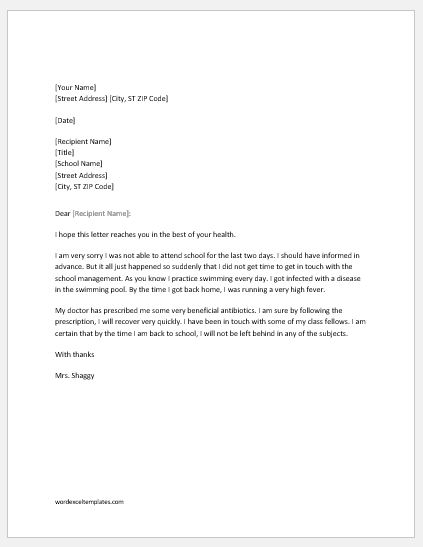 The Letter Template
File: Word (.docx) 2007+ and iPad 
Size 29 Kb   | Download
[Personal Use Only]