Whether you are enrolled in a college/school or you are an employee in a company, your presence matters a lot. Therefore, when you are not present on a given day, you are asked to write an explanation letter.
This explanation letter serves as a formal letter in which the candidate explains to a higher authority that the absence was due to a solid and genuine reason. Organizations ask people to write an explanation because they believe that it is a disciplinary action against the person.
The candidate who writes the explanation should know what he should explain to appease the situation.
Guide for writing:
You need to keep this fact in mind that your explanation letter is an opportunity to clarify your position. You should utilize this opportunity in the best possible way.
The explanation letter should be short and cohesive. It should tell the reader that you were absent because of an emergency. The better you explain, the more likely it is for the reader to let you off
Never give too many details while explaining as it might make the reader feel that you are not being truthful due to which, you are trying to cover up by giving even those details which are not required
Below are two sample letters you can read and get the idea about writing the explanation letter when you had to be absent because of an emergency.
1.
With due respect, it is stated that I was unable to attend office for the last 3 days from 15th March to 18th March 2033. I did not send any leave applications. 
because of the emergency. My mother had a cardiac arrest on 14th March and I had to take her to hospital. I came to know that her condition was critical and she had to be taken to the intensive care unit. I was so worried and panicked that I did not charge my phone due to which, no one from the company could reach me.
It was a very difficult time for me and completely impossible for me to come to work. I apologize for being absent without informing you. I never intended to do that. You can check my track record and my attendance. I never skipped work without informing anyone.
I hope that you will understand my situation and forgive me for being absent without informing. If you want to know about it, contact me or organize a meeting with me.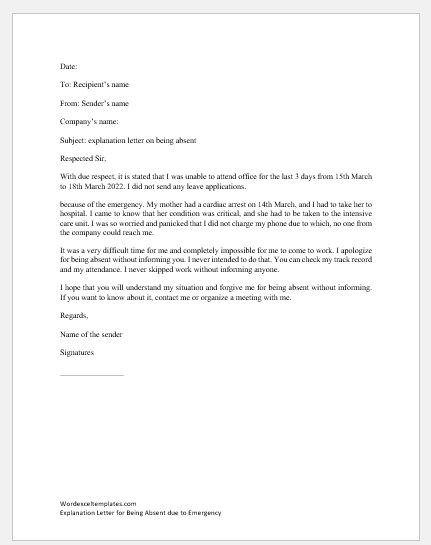 2.
I am writing this letter to let you know that I could not show up at the workplace on 24th May 2033 because of an emergency. I was on my way to the office when I got a call from the hospital. I was informed that one of my very good friends had an accident in the early morning and he is in critical condition.
I was so devastated to hear that news and quickly rushed to the city hospital where he was taken right after the accident. He was in the ICU and need of a blood transfusion. I had to arrange blood for him and medicine.
During all this time, I was so worried that I forgot to check my phone. Due to this, I could not come to the office and inform anyone about my absence.
It was very important for me to be with my friend as he was very close to death. I hope that you can understand what I must have been through. I still apologize for not checking my phone and contacting anyone. I know I caused inconvenience to lots of people. Please accept my apologies. I assure you that this will not happen again.
Thank you so much for your support and cooperation. Looking forward to your kind response.