Petty cash is a small amount of cash given to the employee for making purchases on behalf of the company. Sometimes, the employee pays from his pocket because of a lack of needed funds and he is reimbursed so that petty cash funds can be replenished and the employee can also be compensated.
Companies generally want their workers to make a request whenever they make the payment for a work-related task from their cash. In some cases, companies provide the employee with the form to be filled in to apply for reimbursement. However, when the form is not available, the employee will write a letter of request to ask for compensation.
You write this letter to your employer and therefore, you are always needed to come up with an effective request. Following are some important details to add:
Make a request:
Tell the reader that you have paid for the company expenses and now you want to be compensated. Your tone should be such that the reader can understand that you are making a request.
Give details:
To make it easy for the company to perform reimbursement, give details of the compensation you require. For instance, provide details like the total amount to be reimbursed, dates on which you made payments, and much more.
Read the sample letter given below:
1.
My name is Mr. Adams and I have been working in the sales department as a salesperson for 5 years. My employee ID is HJ677.
I am writing this letter to make a formal request to you to approve the reimbursement of expenses that I paid on the company's behalf. According to the policy of the company, employees are entitled to get the reimbursement of the petty cash after they have paid on behalf of the company from their private funds.
I had to travel to another city to buy some materials for the company's work. I informed the supervisor last week about the lack of funds. He asked me to spend on travel and bear other expenses from my cash. He promised me that the company will compensate me later.
Considering this, please accept my request for cash reimbursement worth 1000$. The breakdown of all the expenses has been attached with this request letter in the form of receipts of payments. You can calculate all the expenses yourself.
If you want to have a meeting with me before compensating me, please feel free to call me. I am looking forward to a kind response from your side. Thank you so much for your cooperation and support.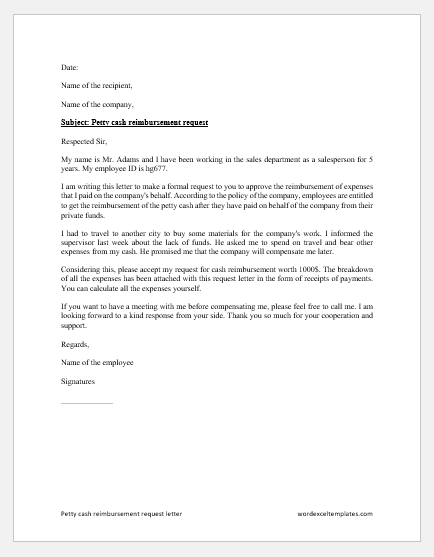 2.
This letter is being written to you in order to make a formal request to accept the application for compensation for the petty cash that I paid from my money on behalf of the company.
I am Mr. James and I work in the sales department. As per the policy of the company, I can apply for the compensation right after paying on behalf of the company. Therefore, I am requesting you to pay the money of 1444$. This amount was paid to the vendor for buying _____________ products. For proof, I am attaching a copy of the receipt with this letter.
It is my humble request to you to please reimburse the said amount as soon as possible since I have to pay for my various expenses. I assume that you have understood my request and will take quick action by approving my request.
If you want to have a more detailed discussion regarding the compensation for the petty cash, you can organize a meeting with me. I will provide you with more information regarding this matter. I am looking forward to hearing a positive response from you. Thank you so much for your cooperation.