There are many such instances when it becomes really difficult for us to make it to the meeting organized at our workplace. Some of these meetings are very important for employees to attend and if they don't attend these meetings, they have to be answerable to their employer. However, if an employee writes an effective excuse letter, he will not have to be answerable.
There are many such situations when we want to take off from work. These reasons may include our personal life commitments, our health issues, and sometimes some unpredictable circumstances due to which, you might want to excuse yourself from attending the meeting.
Who should have written the excuse letter?
You should always write an excuse letter to your boss because most of the time, he is the one hosting the meeting. If any other stakeholder is organizing the meeting, also write this letter to them.
Is it important to write an excuse letter?
Writing an excuse letter is the most appropriate way to not attend the meeting. It shows that you respect the time of other people and when you do this, you are informing them in time instead of keeping them waiting for you. An excuse letter also shows that you are a professional person who knows professional ethics to handle a situation.
Why excuse letters are deemed important?
Excuses are a professional way to make others know that you will not be available for the meeting. This allows them to make arrangements depending on what suits them. If you don't write an excuse letter and just don't appear in the meeting, it shows that you have no value and no respect for your commitment to your work. In this letter, you can also ask for a favor
How to tell everyone at the workplace that you will not attend the meeting?
Apologize wholeheartedly:
People usually try to seek forgiveness when they write an excuse letter. So, one should never forget to add a specific section in the letter that can show that he is apologetic. You should not try to give any reason when you are saying sorry because you should not try to justify your absence from the meeting
Describe the importance of the meeting:
Let the reader know that you understand that the meeting was really important and you never wanted to miss it. Also, discuss that you have read the agenda of the meeting with interest and you were fully prepared to be a part of the meeting.
Discuss the reason for not attending:
Once you have explained that the meeting was important for you and you feel regretful about not being able to attend it, it is the best time to give the reason for your absence. Describe your reason in such a way that the reader can also feel that you couldn't make it to the meeting.
Ask for the meeting updates:
In the last part of the letter, you should ask the reader to provide you with the meeting updates so that you can also stay on the same page as others. You can also ask for the meeting minutes that people often design to share with those who could not show their presence in the meeting because of some genuine reasons.
Provide your contact details so the reader can contact you to share meeting minutes with them. Also, ask them if they need your review on the meeting discussion or if things can be kept aside until the next meeting.
Follow the template:
At the workplace, there are many such circumstances when we cannot attend the office or the meeting. Due to this, we miss becoming part of a discussion that is very important while taking important decisions. When we don't attend a meeting, we cause inconvenience to many people. Therefore, we should write an apology letter to the meeting attendees.
For writing a best excuse statement, we can also follow a template that allows us to convey our feelings of remorse professionally without making the reader feel that we are not being truthful or we are just trying to escape from the situation. 
#1
I am writing to apologize for missing the meeting today with the IT Department. Unfortunately, I encountered a family emergency and had to leave the office immediately. I informally informed the manager before leaving.
I sincerely regret the inconvenience caused by my absence. I shall be present at work tomorrow and will catch up on the points discussed during the meeting.
I appreciate your understanding.
#2
Please accept my apologies for missing our virtual meeting today. Unfortunately, I had some internet connectivity issues in my area that prevented me from joining the meeting as planned.
Kindly share the key points of the discussion with me to help me stay in the loop.
I am grateful for your understanding and cooperation.
#3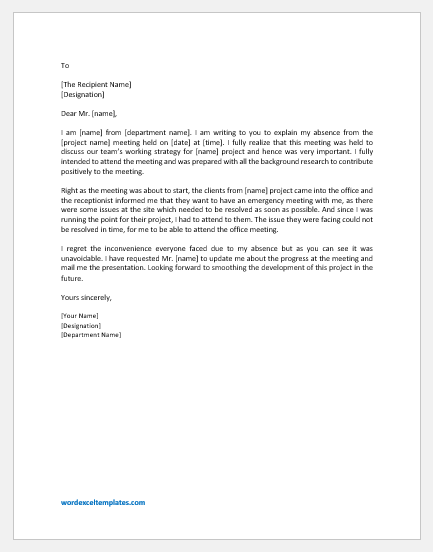 File: Word (.docx) 2007+ and iPad
Size 13 KB