Income Verification
The best way to get the salary of an employee verified is to use the salary verification request form. This request form can be given to anyone for filling if you have been authorized for it. If you are a landlord, you can ask your tenant to verify his salary to ensure that he works at the company.
What is employee income verification form?
The employment income verification form is a type of a formal correspondence between the employee and the employer. It is the form that is used to request the employee to provide the proof of his job. It is also used by the landlord to get the employment of the tenant verified.
What is the purpose of salary verification?
The practice of verifying the salary is known as income verification. The main purpose of conducting this verification is to ensure that the information provided by the employee matches with the information obtained after verification.
When to use the income verification form?
As an employee, you may be in need to get a new job or rent an apartment. You will always be required to provide the proof of your employment and salary. The income verification form is a very helpful and easy tool to gather the information about a person regarding this job and income. This form is a formal document, so it should be prepared to the point and easy to understand.
The form provides the information about the company in which the employee is currently working and his salary. Often, when someone applies for a loan, the bank requires the applicant to provide the proof of his employment.
This is done for the security of the bank. If the employee will not pay the debt off in the specific amount of time, the company where he is working will be contacted.
Most often, the companies have this form that they give to the candidate to fill before hiring them. However, the candidate can also provide this form to the company himself.
A sample template is given below. Hope it helps!
Preview and Details of Template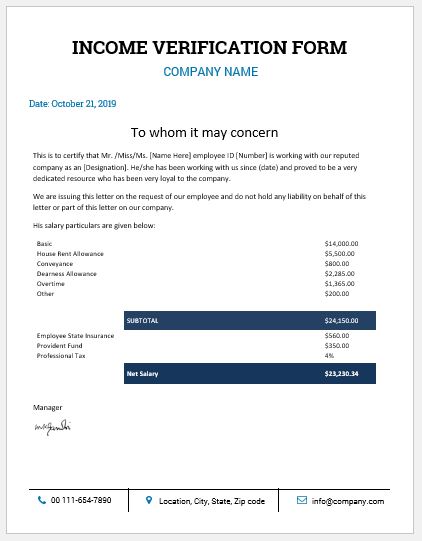 Income Verification Form Template
File: Word (.doc) 2003+ and iPad 
Size 81 Kb | Download
[Personal Use Only]