An employee is not the permanent part of the company. There can be different motives for which an employee has to walk away from the company and never come back again. The skilled and talented professional always leave the job by submitting their resignation to the HR department.
Submitting the resignation prepares the company for finding an appropriate replacement and it can also take several steps to perform the employee's clearance. Whatever reason an employee has to leave the job, the clearance of the employee is mandatory.
What is employee clearance form?

 
An employee clearance form, also known as exit clearance form is a document that is used by the company to ensure that the employee who is resigning from the job has fulfilled all his responsibilities and has cleared everything so he is now free from all responsibilities and to get connected with any other company.
The employee clearance form can be prepared in the standard form. The template for this form is also available on this website which is very simple to use and it takes no time for the user to fill it. You can make it fit your needs by using its customisable features.
Why use the clearance form?
The use of clearance form is crucial when a company wants to make the employee return all the properties of the company that is in his/her possession. The employee is asked to fill this form and submit it to the company's management so he can get his salary cleared.
How to create the employee clearance form?
The employee clearance form should be started with the name, designation, department and identity card number of the employee. The list of items cleared by the employee along with the date of returning should be mentioned on the clearance form.
The names of outstanding items along with their value should be mentioned in the form. Leave an empty space at the end where the employee can give some additional remarks regarding the outstanding items as well as the salary to be collected.
Preview and Details of Template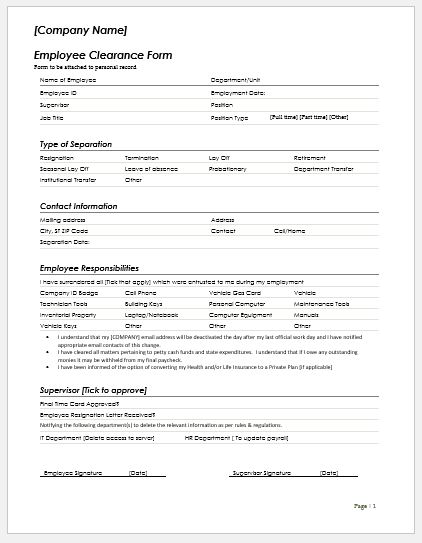 Employee Clearance FormTemplate
File: Word (.doc) 2003+ and iPad 
Size 536 Kb | Download
[Personal Use Only]