Multinational corporations are run by hundreds of employees, who are hired based on their experience and knowledge. Each employee is employed after a rigorous series of interviews and a short listing. It is not an easy process, and every employee should abide by all the rules and regulations of the corporation.
Employee physical examination is the process of evaluating the physical health and ability of an employee before hiring. Employers make sure that employees do not suffer from any chronic or infectious disease that may affect their performance or pose a risk to other employees.
A physical examination form is a document that mentions all the details related to the physical well-being of an employee. These forms are ready-made, and information about a particular employee is added after careful examination by a healthcare professional. Information related to physical appearance, medical history, and major surgeries is usually added.
The employee physical examination form is a thorough test that is usually conducted at hospitals, as decided by the employers. Generally, samples from the employees are collected, and their reports are sent to the administration. Based on these laboratory tests, the administration decides whether to hire a particular employee or not.
Employees with mild issues can be treated with medication, but any employee suffering from mobility issues or any other mental illness is asked to seek medical treatment immediately. Moreover, many companies prefer regular testing of their employees to rule out drug or alcohol abuse because hiring addicted employees does not comply with the policies of the state.
Components of the form
There are many components to an employee physical examination form, and some of them are mentioned below:
Personal information: personal information of the employee, i.e., name, date of birth, address, and contact information.
Physical Examination: a medical professional fills all the data in the examination form which includes,
Physical appearance
Weight
Height
Blood pressure
Respiration
Allergies
Temperature
3. Laboratory testing:
Eye testing
Hearing
Skin
Throat
Cardiovascular system
Gastrointestinal
Neurological testing
4. Drug screening: all employees will undergo drug screening to make sure there are no amounts of alcohol or drugs present in their system. Urine, sputum, and blood samples are used for complete evaluation.
5. Vaccination: The vaccination record of all employees is also viewed as a part of the physical examination. This record includes being immune to all previous and recent diseases to avoid infectious spread.
Importance of using the form
Employee physical examination forms provide the following benefits,
These safety measures ensure the security of employees but also all other employees and staff around them.
Reduce risks of workplace injuries and accidents.
Encourage the well-being of employees which also allows them to take their health seriously.
The government also encourages businesses to make sure that all their applicants are examined fully before hiring.
Layout of the form
Employee examination forms are devised by employers in coordination with medical professionals to make sure that all the boxes for the well-being of an employee are checked before hiring.
The examination form can be depicted as follows,
ABC Company
Employee Physical Examination
Applicant's name:
Age:
Date of birth:
Temperature:                           Weight:
Height:                                       BP:
Allergies:                                 Respiration:
| | |
| --- | --- |
| System | Results |
| Eyes | |
| Hearing | |
| Cardiovascular | |
| Muscles | |
| Mobility | |
| | |
Sample Table
Medical Professional: _________________
Signature
Date: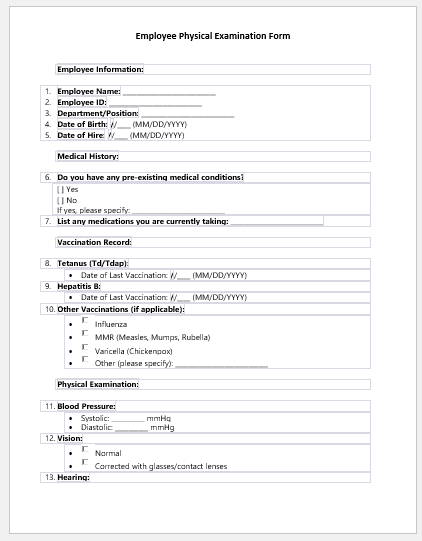 File: Word (.doc)
Size: 53 KB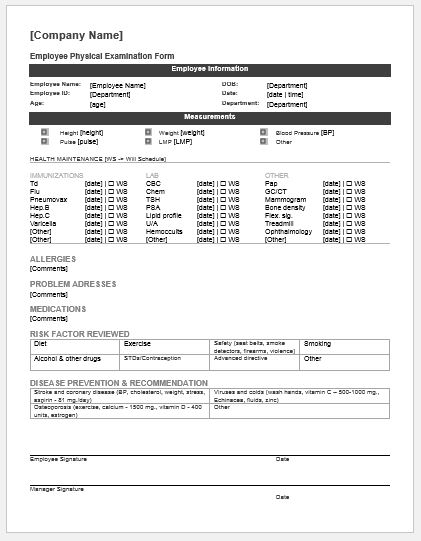 File: Word (.doc)
Size: 53 KB