What is physical examination form?
The physical examination of the employee is conducted in the hiring process of most of the companies. The main purpose of conducting the physical examination is to know if the employee is physically fit. This form is a simple tool that lets you make a complete report of the physical examination of an employee.
When to use the physical examination form?
The physical examination form can be used when you want to apply for a specific purpose in any firm
It can also be used while getting admission in an institute.
Form template:
The form is available in different formats. The professionally designed physical examination forms are used by people who want to use them for their business.
This form is provided by the employer of the company to the doctor or any expert who is responsible for conducting the physical examination. There are all the details mentioned in the form which a physician is required to check if the employee is fit enough to be hired by the company.
If you want to make a form according to your business, you can do it easily by customizing it. You can add the fields of your choice in the form so that it can be made suitable for your business.
Anyone who wants to get the clearance after the physical examination should use this form template.
Key elements of physical examination form:
The main fields of this form are:
The first part of the form contains the fields that are used to collect the personal details about the employee. The name, contact details, date of birth, address, and name of physician should be mentioned in the form
The form contains a list of questions that an employee is required to answer in order to let the doctor know about the physical status of the employee.
The questions asked are about various symptoms that can indicate any health problem in the employee.
Some examination forms also collect the vaccination history of the employee.
Preview and Details of Template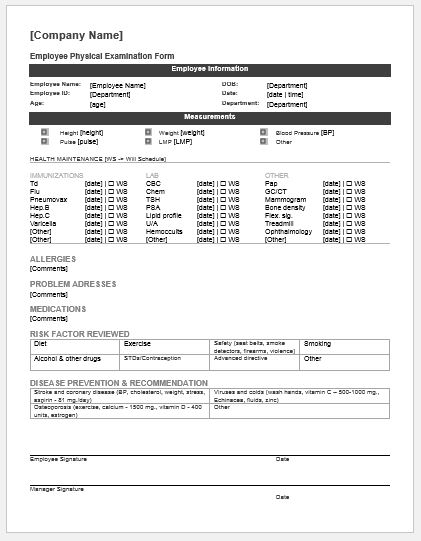 Employee Physical Examination Form Template
File: Word (.doc) 2003+ and iPad 
Size 53 Kb | Download
[Personal Use Only]