Technology advancement is proving great ease to humans now. All facilities are simply available at doorsteps. Different kind of households is available everywhere, thus increasing ease in a person's life. Although, some households are too expensive and not affordable for everyone, still, there are alternatives available for those who cannot afford them.
All kinds of electronic appliances and machinery are followed by their warranty and guarantee. The guarantee is related to the lifespan of a product that for how long it is sure to be functional. Warranty is related to any claim a customer can make within the given time on the warranty card.
Defects and issues are associated in every manner of life. As human beings can commit errors; in the same way products, appliances and machinery can also be defective. But, still, the bigger electronic appliances must be checked properly before delivery to avoid distrust among the customers regarding the name of the companies. It can be risky for their profitability.
The letter given can be used for claiming the warranty of any household, product, machinery, and appliance. The necessary details of the customer, as well as the seller, must be mentioned in such letters.
Sample Letter
Subject: Claiming Warranty of product [X]
Dear Mr./Ms. [NAME HERE],
I am [Name Here]. Two days ago, on Saturday 24th November 20XX I purchased a home theatre system from your store. It was worth $1050/-.
Yesterday, I installed it to check its functionality. With regret, I must inform you that it is non-operational. The woofers are giving fuzzy noise. The LED's picture is black and white with faded quality. The remote buttons are non-functional. Likewise, speaker wires are also out of order. As your company is the best electronics company, it is just an alarming and surprising situation.
It is an awkward situation as I have just one day left at the start of a personal family function. Being a regular customer for years, I need you to deal with this issue promptly. Enclosed with the letter is the warranty card filled with all details and a copy of the payment receipt. I am waiting for a prompt response.
Sincerely,
Warranty Claim Letter Template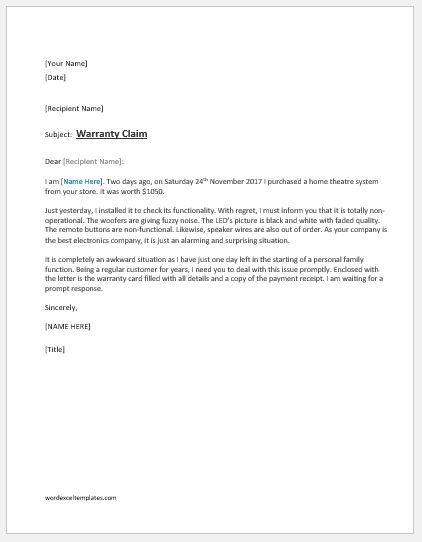 File: Word (.doc) 2003+ and iPad Size 34 Kb |
Download
---
Sample -2
07-06-20XX
The manager,
Modern Electronics Company,
City Tower Branch, Michigan.
Subject: Warranty claim letter
Dear Manager,
I am Anna Williams, working as a manager at XYZ Company and I am writing you this letter for the sake of a warranty claim. Three days ago, I purchased multimedia from one of your outlets located at [name of the place] for conducting a presentation session and an upcoming seminar. Its cost was $2000/-.
I installed it today in order to check its functions on a trial basis. I regret to inform you that it was not functioning properly. It took more than the estimated time to start. Once started, it produced an image of very poor quality having a lot of dark spots. Remote buttons were not functioning properly. It was incompatible with the sound system and not supporting USB files as well. In short, it was completely out of order.
I did purchase considering you the best electronics company in the town. But the situation here is alarming and awkward. We are just three days away from our company's seminar where a lot of informatory data is to be presented by honorable guests.
We are your regular customers and have been purchasing for the last ten years. Considering this you are requested to deal with our problem as fast as possible. I am also sending you a copy of the warranty card which was enclosed with a multimedia package.
Regards
Anna Williams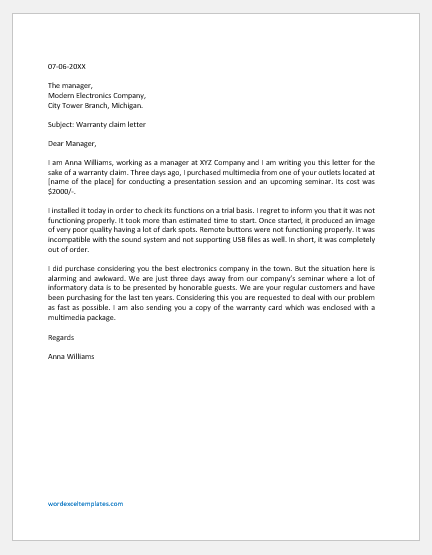 File: Word (.docx) 2007+ and iPad Size 31 Kb |
Download
---