Software technology seminars are often conducted by many IT-based companies that want to introduce their software to the public. These seminars help companies increase their knowledge and sharpen their skills.
Due to the increase in demands for knowledge and technology, many organizations often hold seminars to share knowledge with people with relevant skills and interests. Ideally, a seminar should have a lot of audience since it is the number of people that makes the seminar successful. More people a company invites to its seminar, the more questions and remarks it will come up with.
Using email professionally…
The best way the software companies find to invite IT specialists and other interested people to the seminar is to write an invitation letter or email. Before you write an invitation letter or email to people, make sure that the seminar that you are conducting will provide ample information to the audience. The invitation emails are usually written in a formal tone and are very precise. To keep the email precise, try to include the necessary information only.
The tone of the email should be professional and it should be written with courtesy. The professional attitude of the sender is very likely to impress the recipient. The email should be ended on a positive note. You can thank the reader for reading your email. Write what you expect from the reader to attend the seminar.
Subject Lines
Add a strong subject line in the email. The subject should be attractive enough to compel the reader to read the complete email. Make the reader feel that his/her participation in the seminar is very important for the company.
You can also state how the reader will be benefited from attending the seminar. Start the paragraph with the introduction of your company. The introduction should be given very briefly. The main details to be included in the email are the timing of the seminar and the venue.
You can also add some other details based on the needs of your company. Try to keep the language of the email very simple and make sure that there is not a grammatical mistake in it. At the end of the letter, tell the reader that you will be waiting to accept the invitation.
Email Template
To: [email protected]
Cc: [email protected]
Subject: Invitation to a Software Technology Seminar
Dear [Recipient's Name],
As one of the most proficient and competent software developers working in our company, we have chosen you to attend the seminar. It would be an excellent opportunity to meet many experts and able software developers of the country in the seminar. There is very limited spacing in the hall and we want you to get registered for it at your earliest convenience.
The software technology seminar is being conducted on the 16th of December 20XX at 5 PM at York Hilton. You will be happy to learn about
(Enlist the activities of the seminar)
We will be looking forward to your participation.
[NAME]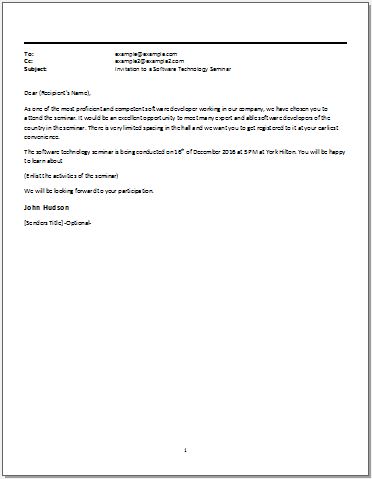 Template Details
File: Word (.doc) 2003+ and iPad
Size 24 KB
File: Outlook Message Format –Unicode (.msg) | Size 32 KB
More samples…