The Notices
Show Cause Notice is kind of an appraisal that requires the recipient, be it an individual or corporation, to provide with adequate and solid justification that why a certain action should not be taken against. It is more like given a second chance to prove your innocence in front of the committee inquiring the case.
Show Cause notices are sent in places where one is required of showing responsible behavior but he does not. Companies, colleges, and courts are the merited institutions for sending these notices.
If you are a teacher at a college and your colleague or student complaint about your bad conduct that requires inquiry, you are most likely to receive a show cause notice from the principal to prove your innocence in front of the committee.
Employees are often confronted with such situations. Being an employee at a law firm is not the easiest job to do. You must be quite cautious and responsible adhering to the professional demands. Yet you still are on a chance to receive a show cause notice from the head of your firm on any loophole. On violating the traffic or parking rules, individuals are often sent the show-cause notice before being punished.
Proving yourself not guilty is not an easy task to fulfill. You may need convincing abilities, dominant nature and a good temper. Only then you can hope for not getting punished by the law. The nature of some cases demands the judge to call both parties, the accuser and the accused, in the courtroom and provide with adequate pieces of evidence. The party that provides sufficient, strong evidence will not be punished and the other party will be given the show cause notice of punishment.
The show cause notice is a very straight forward and professional letter. In the start of the notice, the reason for the notice is announced unceremoniously. All the pieces of evidence of the crime being accused are given. The recipient is intrepidly made sure of his guilt. At the end, the recipient is asked to provide the court/committee with sufficient evidence in the case of innocence or he shall meet with strong actions.
Preview and Details of Templates

Show Cause Notice to an Employee for Absenteeism
File: Word (.doc) 2003+ and iPad
Size 68 Kb | Download
License: ENERGY (Personal Use Only)
Distribution by Kate Elizabeth(CEO)
---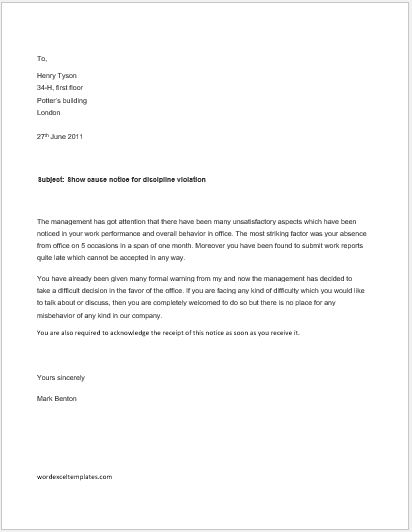 Show Cause Notice for Discipline Violation
File: Word (.doc) 2003+ and iPad
Size 69 Kb | Download
License: ENERGY (Personal Use Only)
Distribution by Kate Elizabeth(CEO)
---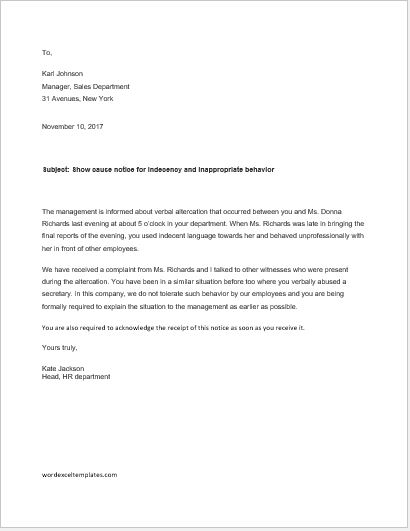 Show Cause Notice for Indecency & Verbal Altercation
File: Word (.doc) 2003+ and iPad
Size 88 Kb | Download
License: ENERGY (Personal Use Only)
Distribution by Kate Elizabeth(CEO)
---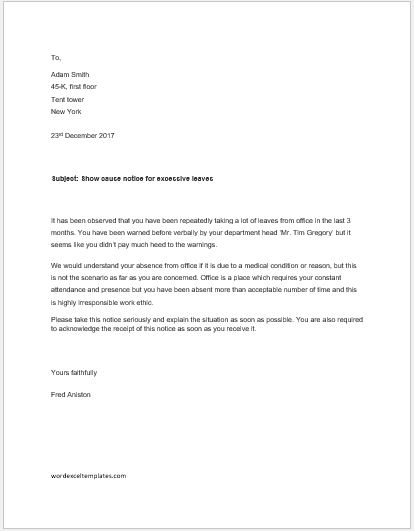 Show Cause Notice for Excessive Leaves
File: Word (.doc) 2003+ and iPad
Size 57 Kb | Download
License: ENERGY (Personal Use Only)
Distribution by Kate Elizabeth(CEO)
---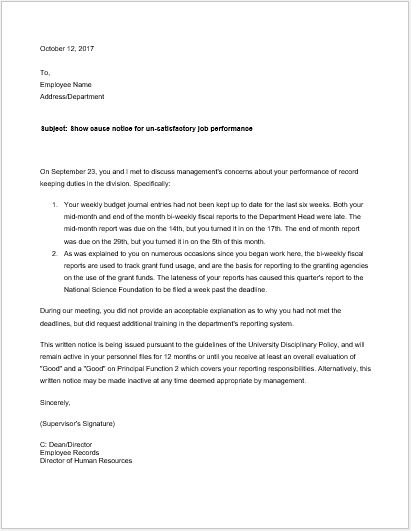 Show Cause Notice for Un-Satisfactory Job Performance
File: Word (.doc) 2003+ and iPad
Size 78 Kb | Download
License: ENERGY (Personal Use Only)
Distribution by Kate Elizabeth(CEO)
---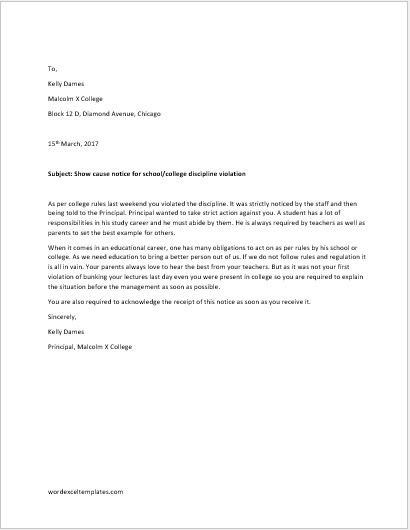 Show Cause Notice for School Discipline Violation
File: Word (.doc) 2003+ and iPad
Size 56 Kb | Download
License: ENERGY (Personal Use Only)
Distribution by Kate Elizabeth(CEO)
---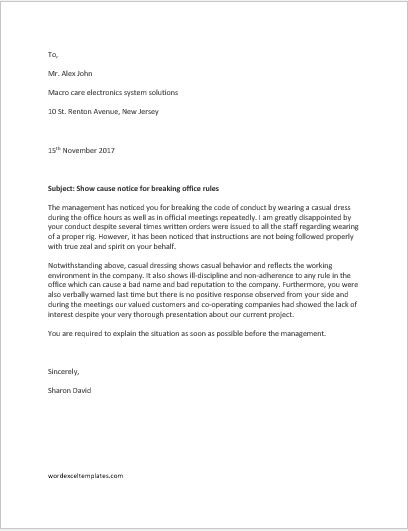 Show Cause Notice for Breaking Office Rules
File: Word (.doc) 2003+ and iPad
Size 64 Kb | Download
License: ENERGY (Personal Use Only)
Distribution by Kate Elizabeth(CEO)
---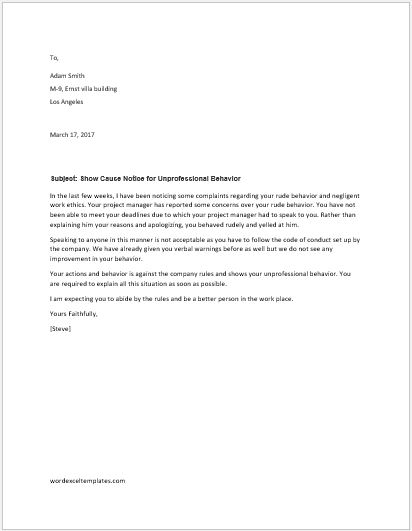 Show Cause Notice for Unprofessional Behavior
File: Word (.doc) 2003+ and iPad
Size 84 Kb | Download
License: ENERGY (Personal Use Only)
Distribution by Kate Elizabeth(CEO)