Subject: Disciplinary Action Notification
Mr. [Name], this letter has been sent by the Senior HR Coordinator of the [name of the company]. As I have been working on corrective measures and observation strategies to monitor employees' conduct and work ethics. The sole purpose of this monitoring has been to encourage a conducive and productive environment in the office. A productive environment is ensured to maintain prudence among employees.
I am writing to notify you of the disciplinary action taken by the Executive HR Team for non-compliance with the official rules and professional code of conduct. We work hard to maintain a positive environment in the office and to take that away, we observe employees' conduct and their focus at work in different ways to avoid being complacent with professionalism.
This notification informs you that an amount of USD [X] shall be deducted from your salary in [month]. This deduction serves as a fine charged for your unprofessional conduct. Professionalism demands punctuality, regularity at work, and seriousness toward the tasks assigned.
However, with utter disappointment, I observed a lack of all the professional qualities in your demeanor in [month]. The Assistant HR served you with a letter of disciplinary warning on [date]. No improvement was observed in your regularity at work and a lack of concentration on the project was also reported.
Thus, you are fined USD [x] for non-compliance with the official rules for more than 30 days. The fine has been done according to point 5 of Office Rules Book 2020 which is legally recognized and in compliance with the Employment Laws.
Further non-compliance can cause temporary suspension or permanent termination. You will be critically monitored for more than 50 days and if we see no improvement, you will be served with further disciplinary action(s).
Regards,
[Name]
[Signature]
Attachment: Please find attached the copy of the letter of disciplinary warning served earlier.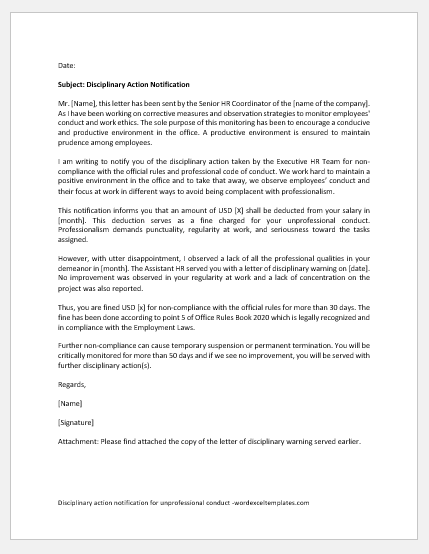 #2
Re. Disciplinary Action Notification with Reference to Disciplinary Warning Letter
Dear Mr. [Name],
I am disappointed by observing that you showed no improvement at work even after being served with various warning letters and emails by the HR office and Team of Quality Assurance. We noticed no change or improvement; hence, we have taken disciplinary action against you. This is the notification for your perusal which has also been attached to your profile as a record.
We despise reprimanding our employees as we believe in cordial relationships between employers and employees. Therefore, we tend to neglect several intentional and unintentional mistakes of our employees. Although a friendly environment is important for a workspace, observing the unprofessional conduct of the employees and recurring irregularity at work cannot be tolerated for long.
Therefore, the QA team has decided to suspend you from the office for one week. During this one week, you will work on your unprofessional conduct and mend your ways. We want you to be regular, focused, and behave professionally at work. You will not be paid for the suspension time, however, you will report back to work on [date].
An employee should comply with all the work ethics and behave according to the prescribed rules mentioned in the company's book of rules. We have sent you the company's rules and by-laws book in PDF format by email. Please study them and comply with them.
In case no improvement is observed, you will be terminated. Call [phone] or write to [email] if you have any questions. Thank you.
Regards
[sender's designation]
[Signature]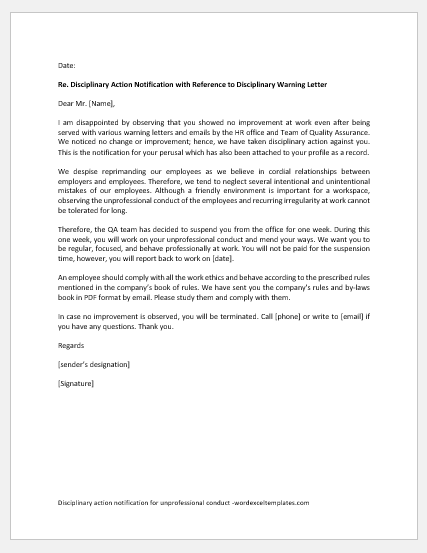 See also: