A smart business realizes that each customer is important for its success. Customer management remains the core of successful businesses. Having a satisfied customer base will not only yield a potential return of the customers but also attract more customers. Therefore, organizations that take care of their customers prosper better.
Today's customer is more aware, more knowledgeable and demands much more than just a product. The customer demands an experience making the job of the customer sales representative challenging. Organizations have also understood the power of customers and therefore scramble over to please them. It's a competitive world and thus businesses are hard-pressed to come up with innovative and engaging concepts for customer experience management.
An important component of customer experience management is handling customer complaints. This is no easy feat, rather a response to customer complaints is what differentiates a successful business from an unsuccessful one!
There are many reasons why customers complain such as:
Faulty product/service
Damaged goods
Not receiving good/service on time
Poor customer handling
Misguidance
Product/service does not fulfill claims made by business
Poor quality goods/service
Any other issue that causes dissatisfaction among customers
Subsequently, any business has several choices on how to respond to customer complaints such as:
Ignoring the customer complaint
Blaming customer
Talking to customer rudely
Not facilitating customer
Facilitating customer partially
Facilitating customer completely
One must accept that there are different types of customers. Not everyone can be made happy, although the business must try its best. Therefore, businesses choose which customer complaints to handle and how to handle them. In some situations, it is absolutely necessary to respond to customer complaints. These situations could be:
The customer has really suffered from poor customer service
The customer received damaged or faulty product
Poor quality of product/service
The customer was not properly guided
The customer was unable to understand product/service
The customer wants a refund/exchange
The customer is a valuable client who often does business with your organization or is a source of more clients
Customer threatens to file a lawsuit
There are many other scenarios as well in which it may be necessary to respond to customer complaints. If you have had such trouble and are looking for clues on how to handle them, then here are some samples to respond to customer complaints:
1- Unhappy customer response letter
Respected customer,
We are sincerely apologetic about your experience with our [enter product/service name]. Our new systems have started operating just two weeks back and things are still in the process of streamlining. Unfortunately, you had to suffer [enter complain] during this process.
We are working day and night to resolve the issue and hope to fix the problem within this week. We hope you have a pleasant experience next time you visit our branch. Meanwhile please do let us know how maybe help you further.
Sincerely,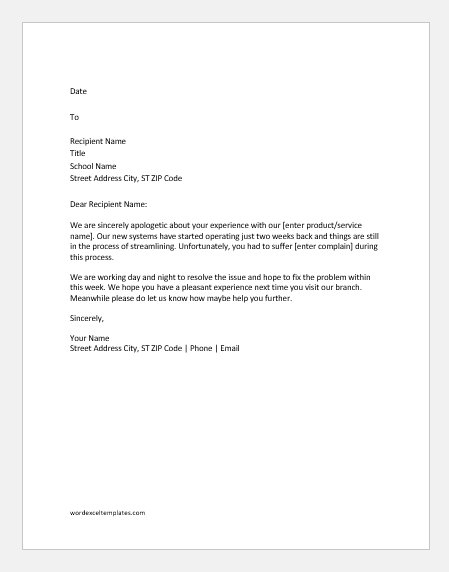 2- Angry customer response letter
Dear customer,
It is indeed unfortunate what happened to you upon hiring our services. Our services are routinely checked for quality control and customer services representatives are given extensive training for excellent customer service. The aggressive behavior of our customer representative has been noted and the organization will investigate the issue further.
Your clientele is very dear to us and we aim to make every effort to please you. We hope you will find kindness in your heart to give us another chance to serve you. Your payment for services will be partially refunded to you.
Best regards,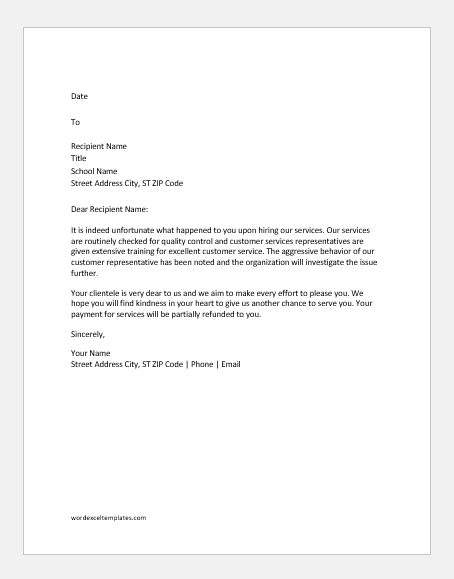 3- Bad customer service response letter
Respected customer,
We regret that you were unable to receive our best customer service on [enter date & location]. The customer representative who worked with you was still under training and therefore unable to guide you properly.
We wish you connect with you again and provide premium customer service as is our motto. Look forward to serving you again.