For any business, customer service is a critical differentiation strategy. Customer service has the power to make a business successful or not. In today's digitally connected world, small efforts for customers go a long way.
The contemporary customer loves to share their experiences with anyone and everyone through face to face chats, through status updates, review sharing and sharing experiences at online forums. Such customer behaviors are both a blessing and a challenge.
Coming up to customer expectations every time is a difficult task. Moreover, slight mistakes and fall in customer services are almost immediately reported by dis-satisfied customers through social media platforms. This is why so many businesses pay complete attention to customer experience management (CEM).
In order to please customers, companies must under promise and over deliver. From the point a business catches a customer's interest to the time when the customer starts using the product/service; a good business ensures that the customer has cared for every step of the way. In case there is a customer complaint, it must be addressed adequately to ensure a happy customer.
Similarly, when the company is at fault or the customer suffers due to a mistake from the company, it must be managed even more carefully to convert a negative experience into a positive one. This is a crucial situation which can lead to potential customer return.
In order to placate a customer, it is a good strategy to apologize to the customer for the inconvenience. Apologizing has a positive impact on customers most of the time and saves a potential relationship. Customers are usually quite forgiving if a company tries to apologize and make amends.
Thus, if writing an apology salvages a customer relation, it is a good strategy. Customers with a positive experience will not only come back for more but will also invite customers. In case you are wondering how to write a professional apology letter to a customer, here are a few examples:
Samples
1- Apology letter to client for a delay in service
Dear [customer name],
We are extremely apologetic for the delay in shipping your product. Due to national holidays, transport and courier services were unavailable for a few days. The issue is now resolved. Your order has been shipped and will be safely delivered to the given address within 2 workings days.
You can use tracking ID: JS48290819 to track your order from [enter order tracking site]. Thank you for your cooperation and we hope to serve you again.
Please feel free to contact us in case of any queries.
Best Regards,
Name of CSR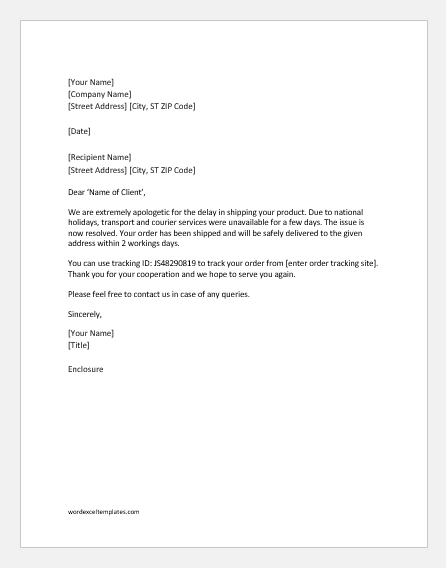 2- Apology letter to customer for the bad product
Dear Sir/Madam,
We are sincerely apologetic that your order reached you was faulty. Our products go through a strict quality control check using random sampling. Despite the quality control, there is still a 1/50 chance of a faulty product. Unfortunately, we believe you received one of the rare faulty products in the production batch.
We have decided to send you another piece of the same product without any additional costs. The company will bear the shipping expenses. Your order will be sent again within a few hours and reach you within three business days.
Please feel free to contact us with any queries.
Best Regards,
Name of CSR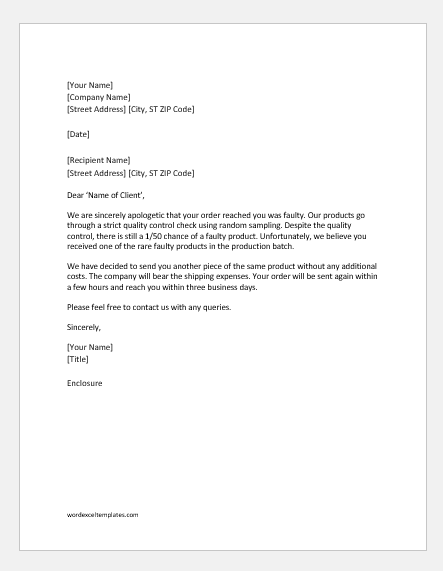 3- Apology letter to customer for the inconvenience
Dear Sir/Madam,
We regret that you were inconvenienced on our behalf. We had placed your order at the warehouse but unfortunately, the order was mishandled and the product that arrived at our location was different. In order to serve you, we have decided to ship the correct order to you to save an extra visit. The shipping costs shall be borne by us.
Kindly provide a detailed address so your order can be directly shipped to you. Once again, we sincerely regret to inconvenience our valued customers.
Sincerely,
Name of CSR