Writing a complaint letter is important if you want the company to improve its services. Sometimes the company from which we buy a product doesn't satisfy us. Buying a product that is faulty or of poor quality is not expected by the customer, so the customer should always address this problem.
Most of the times, people are generally happy with the product or company and that company makes an exception that makes you feel very disappointed. Such companies are always expected to improve their services. That is why the customers feel it be their responsibility to let the company know about the faulty products.
Receiving faulty product should never be taken for granted and it should never go unnoticed. There is always a solution associated with receiving a poor-quality product. All you have to do is write a complaint letter to supplier for informing him about the product that was not of good quality.
Benefits of writing a complaint letter to supplier:
Many people always ignore when they get a low-quality product. It should be known that it is the right of a customer to get the product refunded if s/he receives a poor-quality product. When you write a complaint letter to the supplier, s/he gets notified about the faulty product that s/he has sent you and those products that are in line.
The supplier can easily investigate the matter to know about the reasons for a quality product and then s/he can also prevent from sending the quality product to other customers and to you next time.
Most of the supplier companies don't like to see a dissatisfied customer so when they will receive the complaint letter, it is more likely that they will get your product replaced or refunded.
Sometimes you also receive a free coupon or free products if the product is not replaceable such as foodstuff.
When you write a complaint letter to the supplier, you draw the attention of the supplier towards those people who are not performing their job properly.
Sample Letters
#1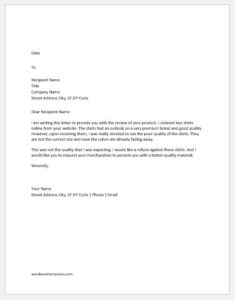 I am writing this letter to provide you with the review of your product. I ordered two shirts online from your website. The shirts had an outlook on a very premium brand and good quality. However, upon receiving them, I was really shocked to see the poor quality of the shirts. They are not the correct size and even the colors are already fading away.
This was not the quality that I was expecting. I would like a refund against these shirts. And I would like you to request your merchandiser to provide you with a better-quality material.
---
#2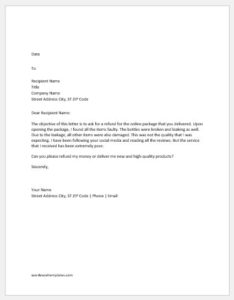 The objective of this letter is to ask for a refund for the online package that you delivered. Upon opening the package, I found all the items faulty. The bottles were broken and leaking as well. Due to the leakage, all other items were also damaged. This was not the quality that I was expecting. I have been following your social media and reading all the reviews. But the service that I received has been extremely poor.
Can you please refund my money or deliver me new and high-quality products?