Cleanliness is very important in daily life. Physical cleanliness is as much important as the cleanliness of the mind. The pair of both brings a much-dwelled personality. Nowadays, it is seen everywhere that dirt and pollution are haphazardous. People have become much more careless about the cleanliness of their surroundings. When no one cares, then things become worst and worst with every passing day.
One form of dirt is unsanitary conditions. These are conditions that give birth to germs, serious illnesses, diseases, and sickness to a person. It can be because of rotten or decayed foods, non-operational utilities, and large wastes of animals and humans.
All country's governments have proper rules and regulations for keeping cleanliness. And health control organizations are responsible for working on this issue. In addition, it is the responsibility of all citizens to keep their surroundings clean. If the citizens are not following the rules of cleanliness, they must be punished to be careful in the future. When unsanitary conditions are seen, attention calls or complaints must be given to the authorities to take necessary actions.
Complaint Letter for Unsanitary Condition
#1
Re. Complaint for Sanitary Conditions in the [specify the area]
Dear Sir,
I am [name], a permanent resident of [specify the address], [city], [country], [postal code]. I have been living here since 20XX; I shifted here from the [city] as a tenant in the same building, and later, I bought the same house.
Since 20xx, it has always been good living here in the town. The House owner's association (HoA) of the town has always been diligent and careful in security and architectural issues.
The only problem I have always been confronting in the house is inadequate sanitation. The sanitary conditions of the town overall, and the house, in particular, have been very poor. It is to inform the relevant authorities of the local government to look into this matter.
The Local Government, the LD Waste Management Services (LDWMS) Wing, is responsible for the cleanliness and effective sanitation in the town. I repeatedly put the issue to Quality Assurance (QA), but there needed to be more done for the case. However, the senior official asked me to put the complaint to you for immediate service.
Poor sanitation is responsible for spreading diseases, viruses, and allergies. The sweepers and other workers need to pay heed to the heaps of garbage put up on the roadside. Moreover, one of the sweepers was seen putting garbage to fire, which is environmental violence.
You are requested to look into these matters personally; otherwise, I will be compelled to complain to the local law enforcement and Magistrate. Please, consider y request a serious complain and do the needful. Also, reprimand your cleaning staff for their negligence and bad behavior. They should be given proper training, and enough vigilance should be put on them. 
Thank you for reviewing my letter.
Regards
[Sender's name]
[Sender's address]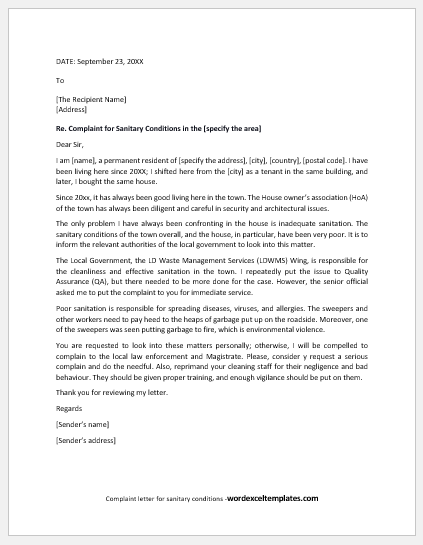 File: Word (.doc) 2003+ and iPad
Size 33 KB
#2
Crystal Residency
Julia Roberts
Block 19B, Red Bird Avenue, Florida
15th July 20XX
Mr. Peter Alberto.
The Owner
Crystal Residency Head Office.
19 St. Eagle Avenue, Florida.
Dear NAME,
I am writing to complain about the unsanitary condition of our apartments. It is my responsibility to draw your attention as it is being a long time since you did not focus on this serious issue. The residents of apartments are much more careless about throwing garbage outside the main door.
All the blocks are so smelly and ill-looking. The top-floor residents also throw the trash from the back side of apartments which is much more troublesome for the ground-floor residents. Major sicknesses and infections are occurring in all children. You must take notice of it. The sweepers are also not punctual. And neighbors are just behaving immorally and unethically if the complaint is given to them.
I request you to sort out this issue soon. Otherwise, I would be leaving the apartment within fifteen days.
Waiting for a quick response.
Sincerely,
Julia Roberts.
Resident, Crystal Residency.
Preview and Details of Template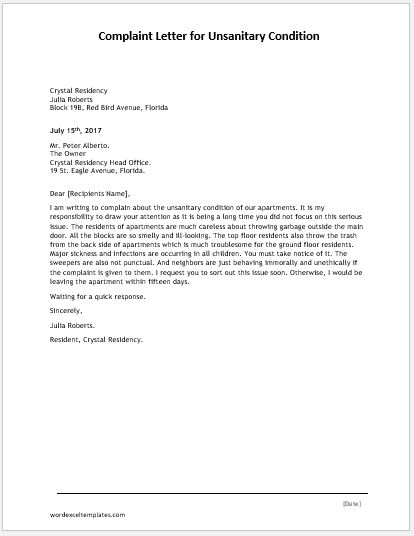 File: Word (.doc) 2003+ and iPad
Size 33 KB
Sample letters…