Feedback Forms
Sessions are held all around the world. The main reason to arrange the sessions is to educate and communicate with the people. There are religious sessions, therapy sessions, motivational speaker sessions and educational sessions as well.
The speaker has to be really good with the words since it is the only mean by which they can convince the audience. They educate and propagate information. There is always a room to improve in every job. Sometimes a speaker is unable to communicate with the audience and the session goes worthless.
Reasons to have a speaker evaluation form and its benefits:
Most of the feedback is beneficial for the speaker since he can use these points to improve himself.
A speaker should notice the small details such as the behavior of the audience. Look closely if they are getting bored or sleepy in case the session gets boring. Non-verbal gestures also tell a lot about the situation. A speaker should be able to understand these gestures and respond in the best and possible way.
The speaker has to be intelligent in answering the questions during the session and during the feedback as well. He has to be open minded to accept all kinds of reviews from the audiences.
Essential points in the feedback form:
This form is created to judge the performance of the speaker during the session. The essentials of this form are to ask the audience:
Where did they attend the last session?
Was the session all relevant to the topic of discussion?
Was the speaker able to communicate with the audience?
Was the presentation understandable?
Was the speaker able to answer all the queries related to the topic of the session?
A feedback form is a one to one thing. The audience wants to remain anonymous so that they won't get embarrassed if they claim that they don't understand anything. The speaker has to be active in dealing with harsh comments and appreciation as well.
If you are willing to get a speaker feedback form, download the one given below that was created by our professionals.
Preview & Details of Template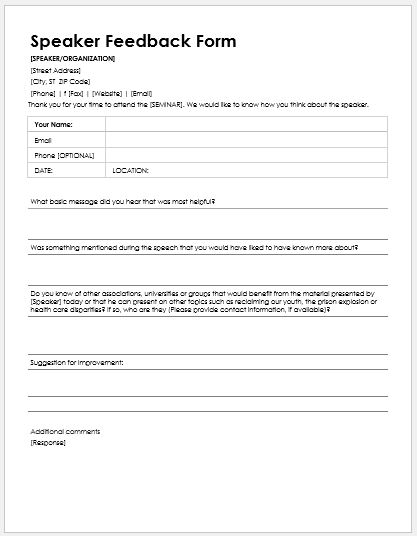 Speaker Feedback Form Template
File: Word (.doc) 2003+ and iPad
Size 37 Kb | Download
File: OpenOffice (.odt) Writer [writer]
Size 13 Kb |  Download
License: ENERGY (Personal Use Only)
Distribution by Kate Elizabeth(CEO)