A workshop is a sort of session of a group where discussions about any professional field are done and the participants are taught some basic or relevant stuff about the concerned field. The reason to organize a workshop is to educate and train the people who are willing to adopt anything as a profession. You see a little guidance at the start is necessary. Workshops are for guiding the ones who are making start-ups in the businesses or any professional field.
A need for a workshop and attendees feedback form:
Workshops are necessary if you are looking to learn some basics of any field. A little workshop about graphic designing could go a long way. Similarly attending workshops about first aid can help you to protect someone's life at the time of need. Workshops provide basic tool and machinery to start working in the field of a profession. The need of feedback from the members arises when the authorities want to evaluate their own performance. They want to check if the workshop was about the topic and if it was helpful in adding some knowledge to the members. The feedback form is simple and easy and asks questions about the workshop, speaker and the instructor, quality of the training etc.
Components and objectives of the Workshop Feedback form:
A sample form designed by our professionals is given in the link below. Take a look at it and consider the following points while making a feedback form:
Ask about the location and timing of the workshop
Ask the members about the objectives of the workshop
What is their review of these objectives and were the objectives fulfilled during the workshop?
Did they like the methodology of the instructors and trainers and the extent of participation was good enough or not?
Give a detail of the activities performed during the training?
Did enough helping material was provided for the training? If not. Suggest the additional material required for the workshop.
What are the improvements that they want to do in the next workshop?
Would they recommend the workshop to their friends and colleagues?
Preview & Details of Template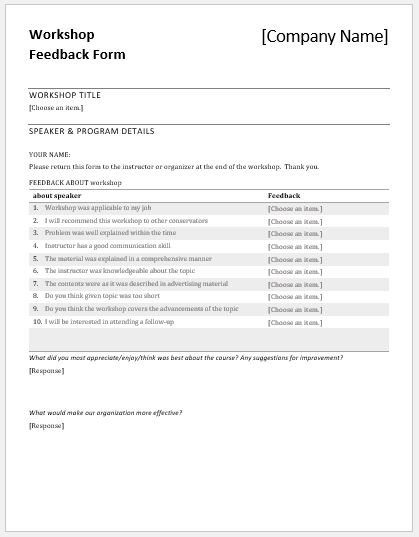 Workshop Feedback Form Template
File: Word (.doc) 2003+ and iPad
Size 37 Kb | Download
File: OpenOffice (.odt) Writer [writer]
Size 13 Kb |  Download
License: ENERGY (Personal Use Only)
Distribution by Kate Elizabeth(CEO)