As time is passing by, parking has got an important and challenging place in the cities. All cities have proper rules and designation of parking. But, these rules should be strictly followed to create harmony and a sound environment.
The car parking system should be much more efficient and proper in residential areas as well as in shopping malls and supermarkets. In such areas, a rush of people is always expected especially on weekends and marked dates.
The transportation medium such as cars and bikes are commonly used now. So, keeping in view the number of vehicles increment in a city, the designation and space should be enough to avoid inconvenience and traffic jams. Especially, in the case of visitors from other cities, proper car parking must be available. Otherwise, people opt not to visit such areas or cities in the future.
The residential areas must be designed to give enough parking to the residents as well as their guests. Often it is seen that people do illegal parking in prohibited areas. If any illegal parking is creating trouble for the surrounding people, a complaint must be done.
Complaint

Letter for Illegal Parking
Letter No. 1
Superior Show Room
Ken Michael
23 St. Dove Avenue, New Mexico
[DATE]
Mr. Ryan Joseph
Branch Manager
Innovations Bank
24 St. Dove Avenue, New Mexico.
Dear Parker,
Hope you are well. I am writing to make a complaint about the parking issue. I am Ken, owner of Superior Show Room. My Showroom is adjacent to your bank. I have found that your employees daily park their cars in front of my showroom. My workers tried to stop them directly but all in vain. I have my legal reserved area of parking for my customers. And due to your employee's illegal parking, my customers feel much inconvenience.
I request you to warn your employees. And I must suggest you that take notice of your parking designation. I am requesting you to sort out the matter as soon as possible. If no response was seen, I would be contacting the police commissioner.
I am waiting for a kind response.
Sincerely,
Ken Michael.
The Owner, Superior Show Room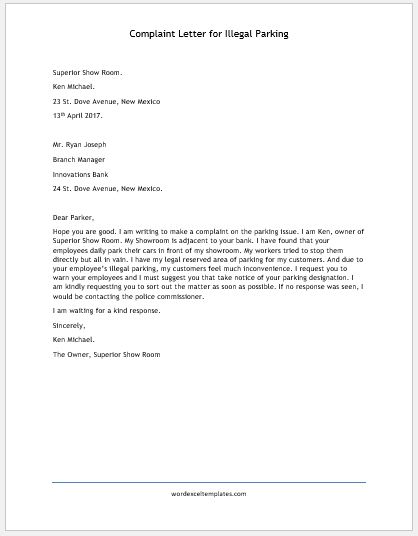 File: Word (.doc) | Size 37 KB