Childproofing refers to the process of creating a safe environment for infants, toddlers, and young children. This process requires elders to evaluate potential hazards for toddlers and mitigate their adverse effects. Usually, toddlers and young children are more prone to accidents because they move about the space and try to explore, while infants do not crawl or walk and are safer.
Childproofing is not limited to homes and residential spaces; it should be mandatory at every place where children are present. These places may include daycares, working spaces, shopping malls, eateries, and more. Childproofing checklists are devised by state-governed departments to ensure the safety of children at all costs.
Components
The components of a childproofing checklist are given below:
1- Lounge:
The lounge or common area has a lot of things that pose a threat to children. Some precautionary measures for living areas are mentioned below:
All the sharp edges of furniture, i.e., tables and chairs, should be covered with protective gear.
Mount televisions and associated devices at a certain height to keep them out of reach.
Cover all sockets, and do not let any cables go unattended.
Use safety rails for fireplaces.
All decoration items must be kept on a height. Do not leave anything that is reachable by a toddler.
2- Kitchen
All cabinets must be locked, along with drawers and other open spaces.
Knives, scissors, and other sharp materials must be kept in upper cabinets.
Floors should be wiped at all times to avoid slippage.
The microwave and stove should be mounted at a certain height.
3- Bathroom
Do not leave the bathroom door open at any time, and secure it with child safety locks.
Cover the bathroom seats with locks to avoid the fear of drowning.
Keep all medicines out of the reach of children.
Do not leave soap and shampoo at a reachable height.
4- Bedroom
All the heavy furniture should be secured tightly to avoid tipping over.
All electrical gadgets and outlets should be kept in secure locks.
Do not leave any cords or decoration pieces out because children have the urge to taste everything.
Add security covers to all sharp edges.
Do not keep furniture that children can climb on.
5- Play area
All the toys must be sanitized weekly to avoid hazards.
Do thorough cleaning each day to remove all broken toys and items.
Make sure that children are safe while playing by checking on them at regular intervals.
Do not keep any sharp objects or equipment within the play area.
7- Emergency
Keep a first-aid box handy at all times.
Take lessons for keeping children safe and for providing first aid at home.
Seek professional help if you are not sure about a situation.
Benefits:
The childproofing checklist is of great importance for new parents because everything is new territory for them. Some of the benefits of the following checklist are given below:
It helps parents cater to all harmful points in one go
The checklist is approved by the state; therefore, it can be shared with other parents.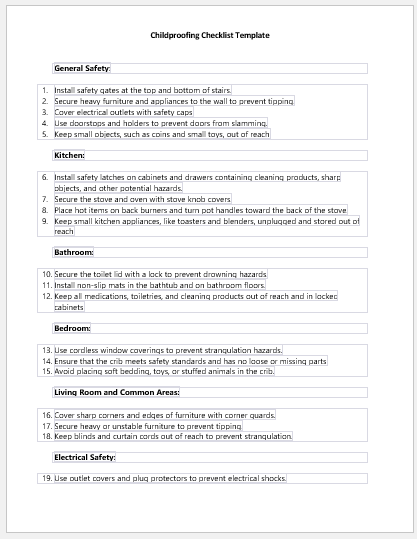 File: Word (.doc)
Size: 118 KB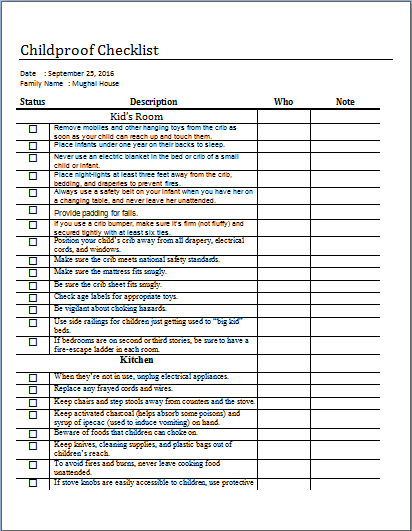 File: Word (.doc)
Size: 118 KB