Dealing with the business closing situation is no doubt a tough job. You will have to think about your customers, your suppliers, and everyone before you decide and make an announcement.
What is the business closing announcement letter?
The business closing announcement letter is written when you are in the process of closing your business. This letter is usually written for suppliers as well as customers. This letter lets everyone know about why you are closing the business
Why write the business closing announcement letter?
Businesses are always recommended to write the announcement letter whenever they make such a decision so that everyone knows about it. Many people are involved in business activities. From manufacturing the products for your company to distributing them, from delivering your products to you and then again selling them to customers, many people are here contributing to making a business operate.
It is essential for every owner of the company to end his business professionally. Using the announcement letter for this purpose is the most recommended approach. Sending this letter on behalf of the company makes everyone feel that you care for everyone who has worked with you directly or indirectly. This letter is also proof that you are taking all necessary actions to clear all the matters before closing.
What should be communicated in the letter?
The basic objective behind writing the announcement letter for business closing is to communicate the details of the closing and thanking them for staying them with the business.
It should be kept in mind that like other announcements, the business closing announcement letter is also written precisely in minimum possible length. While writing this letter, keep the following details in mind
It is important to mention it in the letter that on which date, the business will be closed.
If there is anything that you think is pending at the reader's end, let the reader know about it. For example, you might have to write this announcement letter to the reader so that he can come to get all the outstanding dues cleared.
End the letter by thanking him for interacting with your company in carrying out different business activities.  
It is not incumbent upon the owner of the business to tell people why the business is being closed. If you think that you have a good reason for closing, such as shifting to business in another country, then you mention it in the announcement letter.
How the business closing announcement letter should be ended?
Like any professional and formal letter, this announcement letter should also be ended appropriately. There should be a proper way to end this letter. When you end this letter, make sure that you keep your tone positive.
If you find it feasible, summarise all the key points of the letter, in the end, to make it easy for the reader to understand what you are trying to communicate. If you expect any type of action from the reader, end the letter with it to prompt the reader.
Sample letter of explanation
Date
To whom it may concern
The subject of the letter
Salutation;
Dear Mr. ABC,
We are writing this letter to announce that our company will be closing on the 30th of May. Unfortunately, we will not be able to place any orders for any other company. In the next few days, we are going through all of the accounting records. Our company's top priority is to pay off all the pending payments and invoices.
The company will reach out to you also if you also have an outstanding amount with us. We assure that we will pay off all the outstanding dues before closing.
It has been a great time working with you. We would like to say thanks to you and all those people who worked with us. If you have any questions concerning the closing of the company, you can contact us anytime. Furthermore, if there is anything that you want to do for making this difficult transition easy for us, please let us know.
We are looking forward to your response.
Best wishes,
Regards,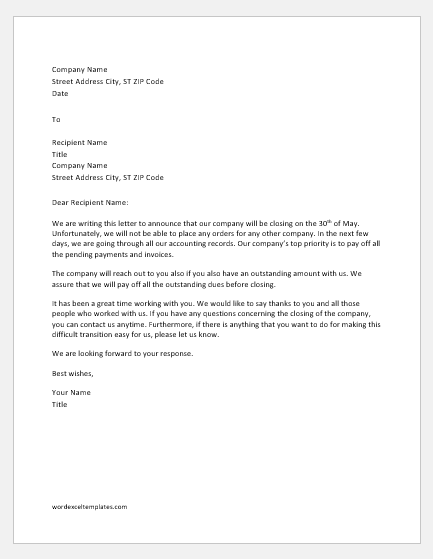 File: Word (.docx) 2007+ and iPad Size 27 Kb |
Download
---