1. Owing to the current COVID-19 crisis, we are closing all our outlets nationwide till the 7th of April. We hope with all our hearts that the situation comes under control and we can see you again soon. Till then, stay at home and take care.
2. In compliance with government orders, XYZ mall shall remain closed from tomorrow until further notice. We extend our full support to the government in its efforts to protect the citizens from COVID-19.
We hope to see you all really soon once we overcome this crisis. We pray for the safety of everyone.
3. We regret to inform our customers that all deliveries are suspended until further notice as the government imposes a complete nationwide lockdown from tomorrow onwards. As the situation improves, we will make sure all our orders are dispatched as soon as possible.
4. For the safety of our valued customers and staff members, our outlets will be closed from tomorrow, 1st April till 15th April. Let's fight this disease together by maintaining strict social isolation. Stay indoors and ensure your safety.
5. According to government orders, we are taking precautionary measures against the outbreak of coronavirus. All branches of XYZ will remain closed until the government deems it safe to resume normal business. We regret any inconvenience to our valuable clients. Your safety is our first priority. Stay home, stay safe!
6. Our valued customers are informed that XYZ will be closed for the next 2 weeks in our efforts to fight the prevailing pandemic. Our home services will also be suspended for the time being. Please stay tuned to our page for updates.
7. In our efforts to ensure the safety of your little angles, Fun Town will remain closed till the 30th of April. These uncertain times will certainly pass away soon. We can't wait to open our doors again to give joyful time to your kids.
8. Dear Customers, We wish to play our part in overcoming the ongoing global crisis. The cinema will, therefore, remain closed until further notice. We request you to play your part as well. Follow the quarantine rules and keep yourself and your families safe.
9.  ABC stands with the nation during the prevailing COVID-19 crisis. We want to ensure the safety of everyone around us. As a result, the amusement park shall remain closed till the 31st of May 2020. We eagerly wait to open our doors to you again once normality has been restored. Our dear customers will always be in our prayers.
10. All clients are informed that the XYZ gym will be closed from tomorrow until further notice. This step has been taken in view of the currently growing risk of coronavirus. We urge you all to stay within the safety of your homes.
In the meanwhile, stay tuned to our page for special workout videos. You can exercise from home following the guidelines of our best fitness instructor.
We hope to see you all very soon.
11. In view of the existing situation, we are closing our Karachi outlets. We shall continue to serve our clients in the rest of the country until the government orders for a complete lockdown.
12. In light of the current scenario, the restaurant will be closed until the 5th of April. We will, however, continue to offer a takeaway between 12 pm to 6 pm.
13. Following the lockdown orders, the Pizza Palace will not be able to serve you until further notice. We care about the safety of our clients as well as our employees. We, therefore, apologize for not being available for dine-in or take out.
Stay indoors and keep yourselves safe.
14. We are closing till the 15th of April in accordance with the government orders. We will, however, continue to take online orders. All deliveries will be made as soon as the lockdown has been lifted.
15. All clients are notified that we are not taking any new orders until the government lockdown has been terminated. We highly appreciate your patience and understanding. We are all in this together!
16. The spreading risk of coronavirus has compelled us to close the mall. Only the grocery and vegetable section will continue to function from 8 am to 3 pm.
Keep visiting our page for future updates.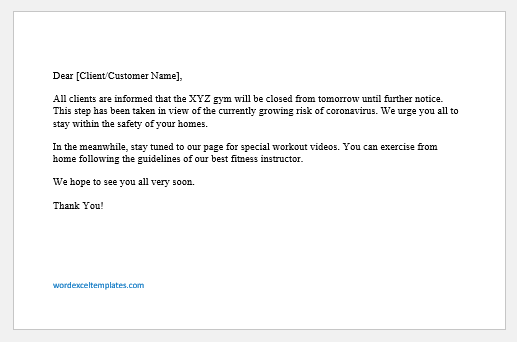 File: Word (.docx) 2007+ and iPad Size 16 Kb |
Download
---