For gaining knowledge on superb mediums, attending lessons daily is so much important. But a better class session can only be constructed when teachers and students are on equal terminologies. Having one single absentee can bring a huge impact on the whole environment of the classroom. Some of the educational centers are based on the special policies in which they deal with the students or the teachers who remain absent from school for a long time.
But sometimes you have to get yourself absent from the school just because of certain instances. Every single student can't hold the attendance which is 100%. It might be possible that they are unwell or even because they have some family concerns due to which they are not able to make their way into the school classes.
If you are getting absent from the school for so long days or even if you are planning to be on leave, then the best way is to write an excuse letter which is based on your absentees. This letter is a form of application which is written down just to let the readers be aware of your absence time and the reason.
How to write an excuse letter for absence?
Below are some of the main points which you need to keep in mind when it comes to writing an excuse letter. Let's talk about them one by one:
You should let the tone to stay formal and be arranged in the well-mannered so it would be easy for the readers to access it.
You have to make sure that the letter is completely formal and it straight in its words.
You should be highlighting the main reason of your absence as well. There is a difference between writing a letter by the side of the teacher and by the side of the student.
You should be giving a complete simple explanation related to the whole scenario with full honesty. You should be capable enough to explain the whole reason in clear words so it won't bring any sort of confusion or doubt in the mind of the readers. You have to be clear and straight always.
You should be always printing your name, along with registration number and session number in small printed letters.
Make sure the application letter is fully brief by means of using some averting useless data or details.
If you are writing an application due to health and sickness, then make sure that you have attached doctor documentation as well.
So these were some of the details! Now for your convenience here we have some samples for you to check out below!
Samples:
Sample no 1: Sample Absence Excuse Letter for being Sick
Honorable Principal,
I am writing this application letter to inform you that my daughter who is studying in class 2 is not feeling well and will not be able to attend the school for the coming whole week. I have attached the doctor's prescription along with the health certificate with the letter. Kindly grant the acceptance for the application.
Sincerely,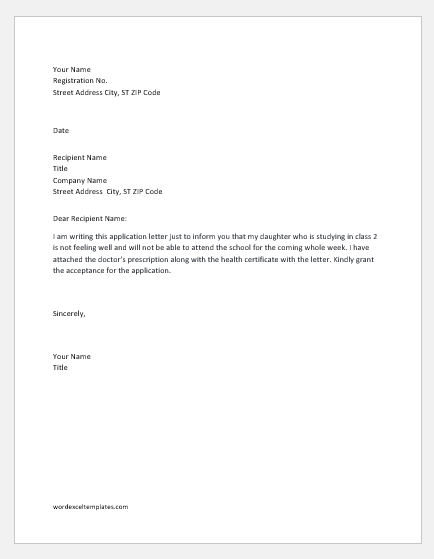 File: Word (.docx) 2007+ and iPad Size 25 Kb |
Download
---
View all samples –>
More Samples
1.
Date
Name
Organization
Address
Subject: Excuse for Absence
Dear Manager Name,
Kindly accept this letter as written documentation and notification of my absence yesterday (date). 
As you are aware, I had an accident last month due to which I had a court hearing and a meeting with my lawyer. I admire your understanding and support. Please contact me if you need any details or documentation such as court notice.
Regards,
Name
Email
Phone Number
2.
Dear Name of Manager,
Please accept this letter as a formal notice that I will not be able to attend work from Date to Date. I will be conducting the professional development sessions that I have mentioned earlier.
I have arranged to be on online during the working hours, I will contact you and check in the office to be informed about what I have missed.
If you need any further information or need anything from me to run the work process smoothly in my absence please let me know. Bundle of thanks for permitting me to take this opportunity.
Sincerely Yours,
Name
Contact Number
3.
Kindly accept this letter as written notice of my absence from Date (month/ day/year) to Date (month/day/ year). The tornado hit this weekend had destroyed my home and car totally, and I had to meet my insurance agent, a glazier and a roofing constructor.
I appreciate your concern and support. If you need any additional detail, documentations or photographs of the damage, kindly let me know.
Regards,
View all samples –>