What is a bank account reopen request letter?
This is a kind of request letter that a client writes to the Bank management for requesting to reopen the account in the bank that was previously closed.
When it comes to writing the request letter for reopening the account in the bank, the content and the format of the letter is most important to be paid attention to. The type of content you add in the letter to request for account reopening depends on why the account was closed in the first place.
It also depends on whether the account was completely shut down or not. In some cases, the bank closes the account of the customer temporarily on his request and then opens it again when the customer wants. However, if it is not the case, the bank will have to open the account from scratch. 
What should be added to the bank account reopen letter?
This letter should include all the details that are needed by the bank to open the account that was previously closed for any reason. The user is not required to provide lots of details if the account was temporarily closed. However, if the closure of the account was finalized, then you will have to provide the up to date details about you that a bank requires to reopen the account. Even if the bank has all the details available, it might need them for security purposes. So provide your personal details including your contact details, date of birth, source of income, account number of the account you want to be reopened and a lot more.
How to write the letter requesting the bank to reopen the account?
The letter should be started with the contact details of the person who is requesting to reopen the account. It is important to mention the account number that you want the bank to reopen.
Start the letter with the proper salutation.
Since it is a formal letter, you should not beat about the bush and come to the main point as soon as you start the letter. Immediately tell the bank that you want your previously closed account to be reactivated
Include the background information about why you closed the account and why you want the account to be reactivated.
Sample letter
Most respectfully, it is stated that I have a bank account in your bank. My account number is mention account number. My account has been inactive for one year because I was not in the country to conduct any transaction. I am writing this letter to bring it to your notice that I have returned to my country and now I want to reactivate my account.
Keeping in view the above information, it is requested respectfully to open my account in your branch again so that I can carry out the transactions from my account again. Early action will be appreciated by me.
Thanks a lot for your anticipation.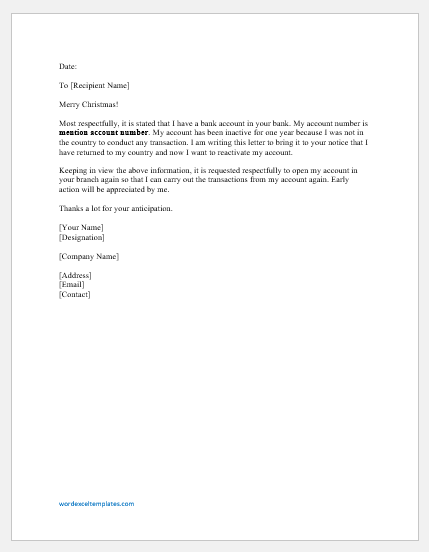 File: Word (.docx) 2007+ and iPad Size 17 Kb |
Download
---