How does it feel when someone appreciates you? feels good? everyone feels the same. This is why wise people suggest adding the habit of appreciation in the day to day life. Informally, we appreciate people randomly with different discourses, but in living and formal relations, the method of appreciation is different. One such formal method of appreciation is writing appreciation letters.
You can write these letters to your expected employer for conducting your interview, to an ex-employer for writing a reference letter for you, to a colleague for being helpful, to your employee for being cooperative, and even to your friends and family for different purposes.
When one receives an appreciation letter, it leaves a good impression of yours on them. The relationship strengthens and most importantly they continue to show their favors to you. So you should not get late whenever you feel that an appreciation letter is due to you. But it is important that you write an appreciation letter in a proper format. Here's how you should write an appreciation letter.
Use a business letter format for formal use. For informal use, you can use any format i.e. letter, email, or a personalized letter.
State clearly why you are writing the letter. Sometimes people forget about their favors on you (the rarest people), so they need to be reminded.
Show your sincere gratitude to the reader. It is always recommended to not exceed the limits as it may give an artificial tone. But it is at the same time recommended that you thank the reader enough.
Close the letter with appropriate words. Thanking the reader again for his favor.
We don't know why you'd be writing an appreciation letter and we can also not suffice for the words of gratitude that you yourself can use better. But it is always a good choice to be flexible and learn from the samples. Here is a sample that can help you write your own appreciation letter.
Think of who should you write an appreciation letter to and write it right away!
Preview and Details of Template

s
#1
Appreciation letter for outstanding performance
Head of Department
Sans International
Date: [DATE]
To: Mr. James Peach
Subject: Appreciation for Outstanding Performance in [XYZ]
We are writing this letter to appreciate you for your untiring efforts over the last year. It is because of your diligence and hard work that our company has made huge profits.
We at Sans International appreciate your outstanding performance and have the pleasure to announce to you that the company head has decided to give you a [X] bonus in recognition of your services.
We hope to work with you and grow to higher levels. You are an inspiration for the rest of our staff. We also hope that you will continue with your outstanding performance and spread that infectious energy.
Head of Department.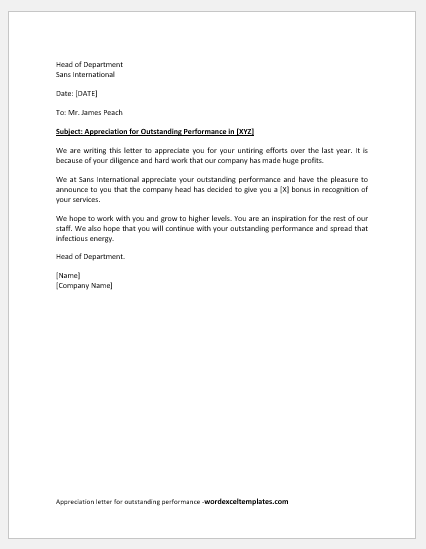 #2
Appreciation letter for good customer service
Manager
Giant Mart
Date: [DATE]
To:
Ms. Shelley Arnold.
CSR Giant Mart.
Subject: Appreciation for Good Customer Service during [XYZ]
I am writing this letter with great appreciation for your outstanding customer service. As we have received many good reviews of your services from the customers of this company, we at Giant Mart have decided to reward you.
In recognition of the professional customer services you have provided, which has helped the mart to broaden and retain its customer base we would like to present you with a cash reward.
I hope this reward will further encourage you to keep up your excellent customer service and this turns out to be a rewarding partnership for us.
Manager
Giant Mart.
#3
Appreciation letter for hard work and dedication
The HR Department
Call –up
[DATE]
Mr. Tom Hanks
Marketing Executive
Call –up
This is to inform you that over the past few months, we have been watching your performance, and we are delighted to inform you that we have been very impressed.
You have been performing very well. Your performance shows your dedication and hard work towards the company, and your role in it.
Based on your excellent performance, which includes your attendance and punctuality. We have decided to shorten your probationary period from nine months to six months.
Next month you shall be completing your probationary period, and we will be giving you a confirmation letter.
We hope that this will encourage you to continue with the best performance that you have been giving the company. Wishing you all the best for your future in this company.
HR Department
Call –Up
#4
Appreciation letter to a team for a job well done
Mr. Larry Pinto
Shift In-charge
Joey. Co.
To
E-mail Team
Joey. co
I am writing this letter with great pleasure. I wish to inform you that your team has been doing excellent work. The e-mail team has performed very well in reaching out to customers and addressing their issues.
We have been approached by many customers giving very positive reviews about your work and dedication, dear team.
Due to extreme weather conditions, many customers' parcels were getting stuck, thus causing a problem in achieving delivery deadlines. In this difficult situation, you all have been very efficient and responsive in addressing the customers. 
Thank God we are out of that situation now, and that was great work done by the [X].
Once again I thank you and appreciate your efforts for all your patience and efficiency.
See also: