Sample #1
I am Linda Arthur and was giving my services as an accounts officer in your organization. I am sorry for letting you know on such short notice as I am moving to another town along with my family. I was in acute need of leaving the job and I cannot state the actual reason. I know this will cause temporary disruption to you to arrange my substitute but I am forced by the circumstances. I hope you will understand and will accept this apology note.
Sample #2
I am extremely sorry for resigning without any prior notice. I had got a job offer near to my residence and for me, it was easy to go there daily. I was just given two days for joining; therefore, I could not let you know beforehand. I had spent a very good time in your organization and cherish it as my best time. I was greatly impressed with your managerial skills and affectionate nature.
Leaving your organization was very tough for me but daily distant traveling had me mentally ill. I was unable to execute my duties properly which was putting me in great guilt. I know that I had done harm to you but I believe that you will forgive me.
Sample #3
Please consider this apology note for not letting you know timely about my resignation. I did not want to continue the job that's why I left it on an immediate basis. After taking a month's break, I came to know that I had made a huge blunder. I had forgotten how much I was happy being in the workplace. I have now lost interest in everything and I want to be on the same terms with you again. Please let me know if it is possible to pursue work here. I believe that you will consider my request and will look into this matter.
Sample #4
I am really ashamed in writing to you with an uninformed resignation. I know how much it was important to inform the priory but I broke the company's rules and committed a huge mistake. I humbly apologize to you for the same. Actually, there have arisen unfavorable happenings that made me resign immediately. My wife had got a brain hemorrhage and there was no one in my absence to look after her. This was the reason behind quitting the job. I hope you will consider my apology and will remove all grudges against me.
Sample #5
This message accounts for my resignation from the post of IT manager at ABC Enterprises. I humbly seek pardon for informing you timely as I have got another job offer. I want to enhance my exposure there I accepted the offer without a second thought. I request you to please suggest to me the possible course of action to check the remaining amount in my account.
You can then email me an emolument or I can contact the concerned department. I am indebted to you for providing me with the best working environment that incessantly helped in my career growth.
Sample #6
I am letting you know with enormous mortification for quitting my services against the post of admin officer from tomorrow. Honestly speaking, my heart is aching to break this news to you but I am left with no better choice due to some problems. Tomorrow will be my last day as an admin officer and I am extremely sorry for causing this inconvenience to you. I had never thought to resign on immediate grounds but circumstances compelled me to do so.
I would like to extend my gratitude to you for being a true guide. It was an honor for me to work under your supervision. The time spent here with wonderful colleagues cannot be forgotten.
Sample #7
This message is an apology note due to my immediate resignation that was affected last week. I had been diagnosed with a contagious disease that requires proper rest. I was suggested complete bed rest for a long time. I know that this was quite unethical and it's mentioned vividly in the company's employees' policy to inform a month ago about resigning.
I know this might have caused you big trouble to you and therefore I request to let me know about the pending tasks due to me. Thanks a lot for giving me continuous support and a healthy work environment. You made me a new person and I will forever remain indebted to you for this.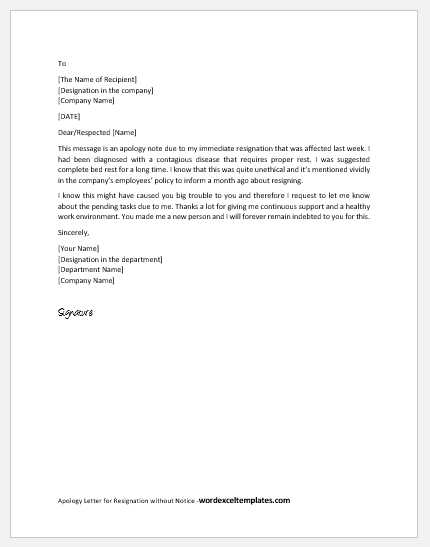 Sample Letters