Re. Excuse for Absence from All Classes due to Home Commitment.
Dear Mr. [Name], I am [Name of the student], from semester [mention your semester] from the department of [Name of the department]. I have also been part of policy programs on different subjects like water and energy crises and climate change. I have also been a member of the ALGH Society of Arts and Culture Club.
I have always been a regular and punctual student. I submitted all my projects on time and never got an extension on my projects, assignments, and course completion. However, sometimes we have to fulfill family commitments too. As an adult, eldest among all siblings, and a college student, I always rush to accomplish everything from work to college assignments, from carrying groceries to checking on my younger siblings.
I have been absent from college for three days due to the demise of my grandfather. My grandfather, who was suffering from a chronic ailment, died on [Date]. I had to attend the funeral and meet the visitors who came to pay their condolences to my father. I had to stay with my father because it was difficult for him.
Due to this, I could not attend college from [date] to [date]. I promise you I will be taking care of missed classes and assignments. I plan to take help from a class fellow to do all the work I missed during these days.
Please consider my explanation ample and excuse my absence from the college. I will be very thankful to you as it could cause an impediment in my score in the future. PTC score is important to get further education and scholarships from higher education universities.
Please respond to me at your earliest convenience. I have forwarded a copy of this letter to [Name], the Dean of Social Sciences. Please let me know if you have any questions or if I need to do anything further. Thanks.
Best Regards,
[Name]
[Department]
[Name of the college]
[Date]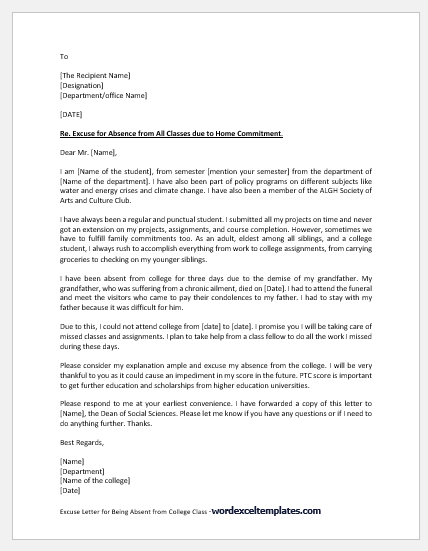 Sample #2
Re. Excuse for Absence from College
Dear Mr. [Name],
I hope you find my letter in the best of health and spirits. I have been a student of Law College in this university since 20XX. I am a student from session 20XX-20XX. Currently, I am studying in [mention your semester]. I have good academic records and grades in previous semesters. My attendance remained more than [required percentage of attendance]. According to the attendance policy, [percentage] is required to qualify for the main exam.
However, I regret not fulfilling the criteria of the attendance policy as I remained absent from the college for one week. I also emailed the concerned department, but they claim they have yet to receive my email. I accept my mistake of not sending a formal application for the leave.
I went through a nose surgery that was broken in a recent accident. However, the accident was a minor one, but it broke my nose. Doctors prescribed I take one week off from work, study, and rest for 4-5 days. Therefore, I could not attend college classes. Sir, I confess to not following up on the concerned department for my leave and not sending an application through the proper channel.
I have violated the college's attendance policy by failing to meet the required attendance criteria. Please consider my excuse for absence and let me take the main examination. I promise to work hard enough for good grades. I will also complete my missed assignments and coursework. Please accept my apology and excuse for my absence.
I have attached the doctor's prescription with the letter as evidence. Please let me know if I need to follow more instructions or do anything else for this. Many thanks for considering my request.
Regards
[Name]
[Semester]
[College]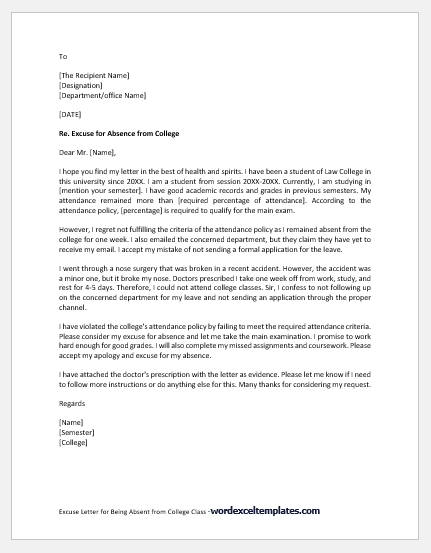 More Samples…