What is an accommodation request letter?
This is a type of business request letter that an employee writes to his boss letting him know about his troubles and the need for accommodation. Companies that cannot afford to provide accommodation to their employees don't hire such employees who have to travel from far-off areas. So, if you have been recruited, it means you can get free accommodation from the company by writing a request letter.
What is the purpose of writing this request letter?
It is not easy for a person to lose his job just because his office is far away. There is a simple solution to this problem. You can simply ask your manager to arrange accommodation for you by writing a request letter. While you ask for a residence, it is better to remain straightforward.
How to write?
For some people, it is a big challenge to write a request letter. However, this should not happen in this situation. Your company might have offered the facility of free accommodation to all those who live in a remote area. You just need to put forward the request and wait for the response. You should know how to write the request so that your request gets approval immediately:
 Give your introduction:
You must always start a request letter written to your boss with your brief introduction. In the introduction, you can include details such as your name, your designation in the company, the department in which you work, your employment number, date of joining, and much more. When your boss receives all your details, he will check your file and try to figure out whether you approve your request or not.
Make a formal request:
After you have provided your details, request in a simple and straight way. You can use a phrase such as ''I would like to request for accommodation'' or ''please provide me accommodation or any kind of plain statement that gets your message across and leaves no ambiguity.
If you are aware of the policy of the company to arrange a place of residence for those people who cannot afford it, refer to that policy to give strength to your request.
Provide the reason:
The employer, after reading your request might want to know your rationale behind putting this request because sometimes, the approval of the request depends on the reason behind it. If the reason is valid, the request is approved otherwise rejected. Make sure that you have a concrete reason to come up with. For instance, if you are asking for accommodation because you are already an immigrant and you don't have any sound residence, you can make this request and put this reason in the letter.
Close the letter professionally:
The letter should be ended with the request to respond and your contact details to reach you.
Sample letter
Date:
Name of the recipient:
Address of the recipient:
Subject: REQUEST FOR ACCOMMODATION
Dear Mr. ABC,
I am (mention your name) working in the management department of the company as an assistant manager. I have been working in your company for more than 5 years. My employment ID is AD235.
Recently I have shifted to my new house which is, unfortunately, a little far from my office. I am facing difficulty in daily traveling from home to office and then back home. There is no place I can reside near the office. In addition to it, I cannot afford the available accommodation options.
By writing this letter, I would like to put forward a formal request to provide me the facility of accommodation as it is the policy of the company to help employees who are unable to find a suitable hostel. This way, I will be able to reside close to my office, and reaching the office will not only be convenient but it will also save me time.
I am ready to proceed with the formalities of shifting to new accommodation that the company will provide me. I shall be very much grateful to you for helping me out. To have further queries, you can contact me any time.
Regards,
Name of the employee
Signatures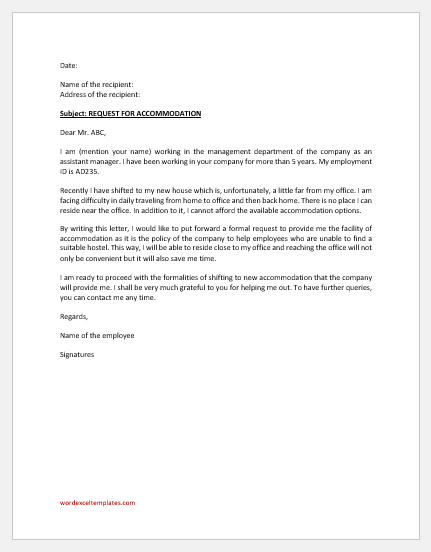 File: Word (.docx) 2007+ and iPad
Size 28 KB