Teachers and professors are often appreciated for their hard work. Their efforts become visible when their complete their academic year or a project they completed under their supervision. No matter it is a teacher or a student, everyone needs appreciation when they achieve something notable.
What is an acknowledgment letter from the professor?
It is a kind of encouragement letter that a teacher writes to his bright students when they achieve something notable or complete a project. This letter is useful in a number of ways.
What are the benefits of writing the encouragement letter to students?
Following are some key benefits a professor can achieve if he sensibly writes the letter of appreciation:
It is a very pleasant experience to have received an acknowledgment letter from your professor. When a student realizes that his teacher believes in him, no one's opinion matters for him, and he feels confident.
Capable students need continuous reassurance from other people that they are capable and they have the potential to achieve so much in their life. This letter also serves as a reassurance that makes a student has a strong faith and belief in himself.
A teacher is a person who has seen his students working hard to achieve something in life. So acknowledgment from a teacher has its place that can never be replaced.
This letter makes a distinction between capable students and those who are not. Students who receive acknowledgment know that they have been made to standout.
Tips for writing an acknowledgment letter:
Write it without wasting your time:
Every appreciation letter written by a professor has a reason. If your capable students have done something remarkable, you should not delay appreciating them. As time goes by, the excitement of the person starts to wear off and he no longer feels happy upon receiving an appreciation. So, as soon as you come to realize that your capable students deserve to be admired, write a letter.
Be clear as to why you are writing:
You student knows why you are appreciating him. Still, you need to let him know the reason. This explanation of the reason will make him feel happy and proud. While you mention the reason, try to remain clear and straightforward. If you are giving credit to the recipient of the letter for the success, give it straight without ifs and buts.
Don't criticize:
Some teachers have a strange habit to criticise their students no matter how capable they are. The criticism is good for them and makes them improve their work. But, when it comes to writing a letter to admire them, criticism is not required.   Since the purpose of your letter is to boost the morale of your students, criticism can let them down and therefore, should be avoided.
Express your feelings:
It would be a proud moment for a student to see his professor happy and proud. So, openly express your feelings to let him know how happy you are about his success. You need to learn to express your feelings sensibly since you are communicating with your students and there is formal writing communication.
Sample acknowledgment letter:
Date
Name of the sender:
Subject: Acknowledgement letter
Dear Students,
I am so glad to see that you have recently completed your research final project successfully. This has been a cumbersome journey for all of you. However, with your capabilities and hard work, you have managed to pull it off. Seeing your research work getting published in a well-known journal is a dream come true.
I am feeling so proud to have been associated with you as your professor. Researching with you was a great thing. Having students like you was a great blessing.
I hope that you will continue working hard and achieving more. Remember that there is so much to achieve in life and you cannot give in at any point in life. I hope that this publication has boosted your morale and you will continue making more publications and bringing a good name to your institute and your country.
Regards,
Signatures of the professor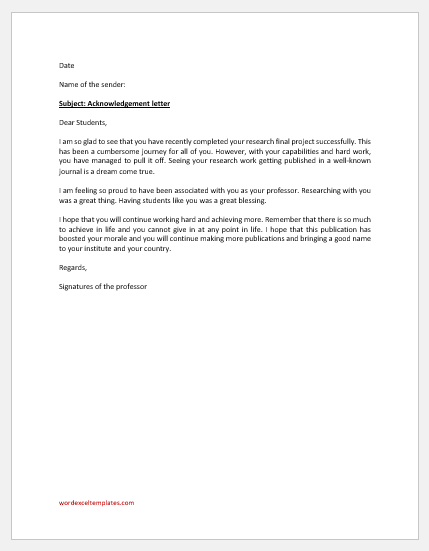 File: Word (.docx) 2007+ and iPad
Size 21 KB