Working in a company has some rules. Everyone who has been recruited to work on a specific post in a company is required to abide by those rules. Those who don't show compliance often have to go through serious consequences. The company can take serious disciplinary actions against such people which can put their job at stake. Therefore, as and when something bad happens, one should be ready to express regrets by writing a letter of apology.
What is an apology letter to the boss for being drunk?
Being drunk at the office is strictly forbidden. Even if this is not explicitly stated, one should refrain from doing that because it is against morality also. The letter of sorry is written to the boss when you come to know that you have made a mistake and not your apology can help you make things right. When someone apologizes, they openheartedly admit their mistake which gives an impression to their boss that they are humble and well-aware of their wrongdoing.
Importance of writing a letter of regret after being inebriated
We all are humans and humans are entitled to making mistakes. We forgive each other if we are in the position to understand them. Whether a wrong action or an infraction was a deliberate action or unintentional, an apology note can make things better. An apology note always helps an apologetic person express his regret and clear his position. Attending the office after being drunk has no justification. However, writing a sorry letter can make your boss think positively about yourself again.
Tips for writing a perfect apology letter to your boss:
How you express the regret of being drunk at the workplace says a lot about you. in addition to it, it will help you handle the situation that has already gone too bad because of your carelessness. When you show negligence and unprofessional attitude by drinking during office hours, you can rectify this mistake with an effectively written letter of regret. Follow the tips given below:
Admit your mistake wholeheartedly:
Some people are afraid to admit their mistakes because they fear they might lose their job. Even if you are overwhelmed with fear, it is important to take the responsibility for whatever you have done. So, you need to be courageous and admit your mistake and then be ready for the consequences
Never give justification:
What drives your boss up the wall is the justification? When people give a reason, they try to protect their breach. An apology has nothing to do with justification. Admit your mistake and ask for forgiveness
When you are saying sorry, you are required to express that you are feeling bad about what has been done. If you are unable to show that you will never be able to convince your boss to forgive you
Sample apology letter
Date:
Name of the recipient:
Address of the recipient:
Subject: Apology for being drunk at the workplace
Dear Mr. ABC,
Please consider this letter as a formal apology from the side for being drunk during office hours. I came to know from my co-workers that I misbehaved. I can imagine the trouble you and other co-workers might have gone through due to me. I am feeling extreme embarrassment at the occurrence of this event.
My actions have caused me too much distress and I am no longer feeling good about myself. I know that my action has brought a bad name to my company since I am the representative of my workplace. I am not only embarrassed but also in a continuous state of sadness. I am finding it really hard to confront everyone at the workplace after that incident.
Please accept my apology. I have been working in the company for more than 5 years and you know that this has never happened before. I assure you that this is not going to happen in the future also. I have already contacted the manager of my department and I am ready to do everything to rectify the situation. If you need any help from my side in an attempt to deal with this situation, feel free to contact me at any time. I will be ready to do whatever I can do in my capacity.
Regards,
Name of the sender
Signatures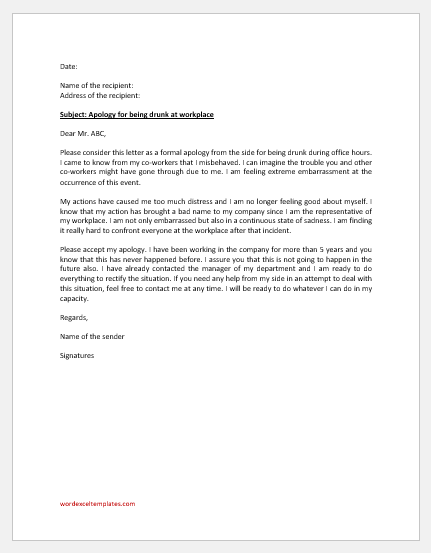 File: Word (.docx) 2007+ and iPad
Size 21 KB