Seminars and conferences are organized by different businesses which help them promote their products and services and also create awareness among people. When a business carries out a seminar, it gets exposure to people and this way, people start recognizing it. Speakers in the seminar play a major role in making that event successful. So, when it turns out that the speakers have done very well to make the conference successful, a business must acknowledge his efforts.
What is an appreciation letter to a seminar guest speaker?
The appreciation letter is used to acknowledge the efforts and seriousness of the guest speaker with which, he has managed to deliver a speech on a particular topic. This appreciation boosts the morale of the recipient and strengthens up the relationship with him.
Why it is important to appreciate the guest speaker?
Usually, the guest speaker is someone renowned who people want to listen to. This is the reason, they are requested to show up and make a speech. Their speech makes a difference to society because they target the issue which needs to be addressed. It is very important to acknowledge them because they make time for the seminar and prepare a speech. When they are acknowledged, they feel valued and can be ready for appearing as a guest speaker in the future also.
We usually find it so hard to appreciate people because we are often at a loss when we have to put down a few words of adulation. However, some situations entail it for us to write whether we are comfortable writing or not. So, we need to be a little cautious and an admirably written letter is prepared.
What is the objective?
The person who has given an unforgettable speech at the seminar might have done a lot of hard work in preparing it. The basic objective of this letter is to identify the hard work of the guest speaker and laud him for delivering a meaningful speech at the seminar that has impressed attendees so much.
The guest speaker gives a speech that is beneficial for those who are attending the seminar. This way, he adds value to the event and enables the business to grow and get admiration. Therefore, you must write a recognition letter to identify his efforts.
Writing tips:
Follow the tips given below for a professional letter:
Make sure that successfully manage to make the reader believe that your words and acknowledgment for him are sincere
The appreciation should be done realistically. For instance, admire and acknowledge all those aspects of the speaker and his speech that you think was really present
If there is specific to your scenario, bring it up in the letter
Let the reader know how his speech and his presence has made a difference
Below is a sample letter to help you get started
Sample letter:
Date:
Name of the speaker:
Address of the speaker
Subject: Appreciation of seminar speech at [X]
Respected Sir,
This letter is being written to appreciate you for your participation as a guest speaker in the seminar on cancer awareness conducted on the 15th of June, 20XX. The CEO of our hospital has directed me to say special thanks to you for your active participation and appreciation for the efforts you have put in to create awareness among people about cancer. We believe that your support in the seminar as a speaker has backed it to a great extent and this action of yours is laudable.
The way you have spoken about cancer, its symptoms, and other factors was really impressive. It was a sensitive topic and giving a speech on it was a big challenge. However, you pulled it off. The speech you made had a strong impact on people. It seems that you have penned it tremendously and its delivery of each and every word was remarkable.
Please accept the acknowledgment from ABC hospital. We are looking forward to more conferences and seminars to invite you. Also, we are grateful to you for making time for us as a guest speaker.
Regards,
Yours sincerely
Sender's name
Designation of the sender in the hospital
Signatures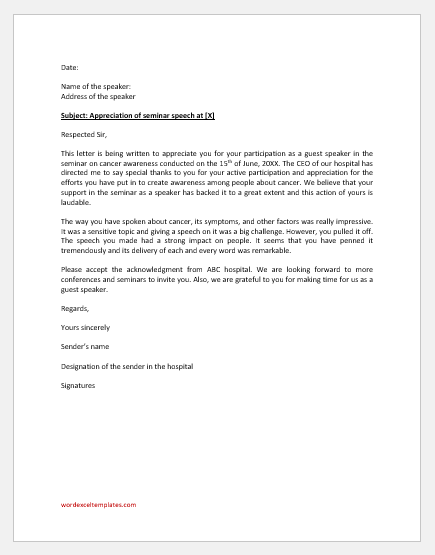 File: Word (.docx) 2007+ and iPad
Size 19 KB