There are many situations when you cannot miss your presence at any cost. This is the reason, many educational institutes generally have a strict policy regarding attendance and they take serious actions against those who don't show up in their classes. However, if a student has a valid excuse to not attend the class, he can be given a space.
What is an absence excuse letter to the research supervisor?
Graduate or doctorate students who are conducting their research with their research supervisor have to write an excuse letter when they fail to make it to the meeting with their supervisor. Supervisors also have tactics that they use when they have to correct their research students' behavior.
Why it is important to write an excuse letter for not meeting the supervisor?
The research supervisor organizes meetings or classes with his students so that he can provide them with the necessary guidance that can help them complete their research effectively. Sometimes, they have to make special arrangements just to ensure that they are available to all those students who want to learn something from them. So, when the student remains absent, it annoys them. Students can write an excuse letter to handle the situation. Taking off from work without informing your supervisor can be troublesome. Therefore, it is always recommended to write an excuse letter and take control of the situation.
How to use the excuse letter?
When you are not able to attend the class or meeting, you should talk to your course instructor or supervisor about it. For this purpose, writing an excuse letter is considered the most effective strategy.
Tips for writing the excuse letter upon absence:
There are a few key points to be kept in mind when you write this letter. These points are given below;
Send the excuse at an appropriate time. When you are ready to make excuse, make sure that you send your letter a reasonable time before the meeting.
In many situations, the supervisor considers your excuse to be a fabricated story. So, it is your responsibility to make him believe that you are not making a lame excuse. For this purpose, provide evidence that can support your excuse.
Keep the nature of the supervisor in consideration while you write this letter. This will help you draft the letter in such a way that it does not annoy him.
Don't try to write a lengthy letter in an attempt to convince the reader into accepting that you are being truthful. Explain your situation in two or three lines and then close the letter.
How to write?
State your excuse:
As soon as you start the letter, let the reader know that you cannot attend to him and then come up with a reason that can explain the situation in the best possible way.
Tell if you can work remotely:
Sometimes you know that there is something very important that you need to discuss with the supervisor regarding the research and you can face the loss. So, request him to allow you to work remotely if you can.
Show your concern:
It is good to let your instructor know that you are as worried about the research as he is himself. So, explain your concern by telling him that you are aware of the importance of completing the research in time.
Sample letter:
Date:
Name of the recipient:
Address of the recipient:
Dear Mr. ABC,
I am writing this letter to announce that I will not be able to attend research classes from 15th September 2025 to 20th September 2025. I will attend the research conference with you that is going to be held on 21st September 2025.
Please accept this letter as a notification letter. I will be available to work remotely and make updates on the missed work. Please inform me about the information I am supposed to be providing. If you need anything to make the research process go smoothly without me, please let me know. I am looking forward to your kind reply and am so grateful to you for providing me with this opportunity to complete my research work with you.
Regards,
Sender's name
Signatures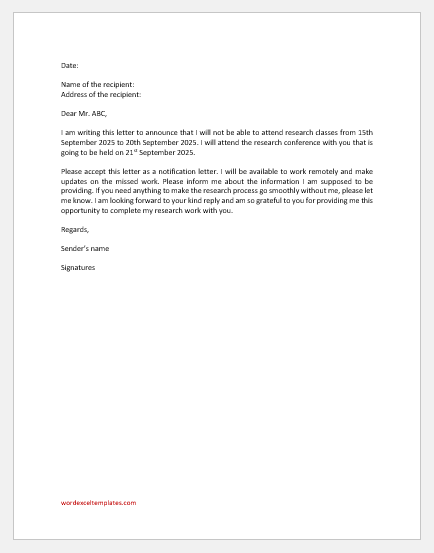 File: Word (.docx) 2007+ and iPad
Size 19 KB