We all need to work to eat and survive. Sometimes we need to miss work due to an illness for instance. Employers may ask the employees to submit a formal excuse letter that explains why they were absent from work.
What is an absence excuse letter for illness?
This is a letter that gives the reasons why one could not attend work because they were sick. This letter may need to be given before the absence or may need to be written after it. This depends on the company policy.
Inform them timely
It is a formal way to inform your boss or employer of your absence. It is proof that you informed the company why you were not able to come.
You will need to submit this letter sometime during your working career. You need to know how to compose it. The following tips can help you out:
Must be professional: The letter needs to follow a business letter format. It should be professional. You can type it in Microsoft Word.
Simple: The letter should be brief. You should not go into much detail concerning the reasons why you missed work or are going to miss work. You should for instance not list all your symptoms, or give a long story about some personal issue. Simply state the days you will not be able to attend and briefly explain the reasons why.
Some necessary details: You can begin by having your name in the header of the page with your contact details. After this, the data can be written. State the name and contact details of the person you are writing to. The letter should begin with "Dear", and then the name of the employer. In the first line tell that you will not be able to come to work from which date to which date. State what your illness is that is forcing you to do this. You should tell me what can be done to make your absence not cause a hindrance.
It is necessary to know how to write an absence letter so that your employer is not disturbed by this.
Sample Letter
Freddie Khan
782 NE, Newport Street,
Dearborn Heights, MI 48127
Michigan State, US
17th April 20XX
The General Manager
Real Align House
234k-12Q30 Rex Keas
Dearborn, Michigan State, US
Re. Absence Excuse for Illness
Dear Ma'am,
It is stated that I am a [Corporate Assistant Manager] at your align house. I have been a regular and punctual employee throughout. I was given an award for being one of the most punctual and efficient workers in the Employee's Annual Award Ceremony this year. The award, in fact, motivated me to stay punctual, and regular, and become more laborious at work.
Recently, I remained missing from the office for three days due to illness. I was suffering from a high fever and it was diagnosed as typhoid upon testing. Dr. Sophia from Kent Clinics advised me to take a break from work and take complete bed-bound rest for three days. I sent an email to the admin informing him about the cause of my absence from work.
I also sent him the presentation I was supposed to submit on that day but, unfortunately, the email stuck due to network intrusion and it remained unnoticed. My cell phone was switched off during the period and no call from the office could be received.
When I am back in the office now, I was set aback knowing that I was penalized with a salary deduction and two days' suspension. I know ma'am, it is insufferable if an employee remains missing for straight three days but I assure you of the fact that I sent the email which remained unsent, unluckily, and remained unnoticed regretfully.
Ma'am, I apologize for the outcomes of my neglectful act. I promise you to never be careless again and I also assure you of my willingness to enhance my working capabilities next.
Ma'am, I request you order the accountant to not trim my salary by terminating my suspension orders. I am already going through a severe financial strain and expect you to empathize with my situation.
I pay my thanks in anticipation.
Sincerely
(Signature)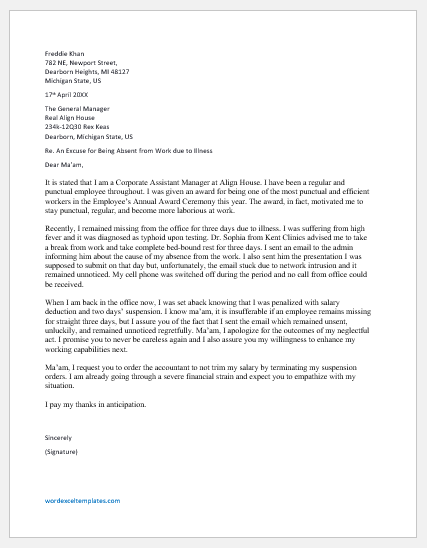 File: Word (.docx) 2007+ and iPad
Sample letters