If you have kids, you know that any incident can occur at any time. If all guardians work, then one must get some holidays from work if a child needs to be cared for. This is if you do not have any other option. To do this you will need to give an excuse letter for being absent from work due to childcare.
What is an excuse letter to be absent to take care of a child?
There are many instances when one is forced to be absent from work. One of these is if your child needs some care due to something happening to them. For this, you will need to submit an excuse letter to tell your employer that you need to be absent from work to keep care of your child.
How important a letter is?
This letter is needed so that your employer can arrange your absence without causing any disturbance to the running of the place. It is a professional way to tell your boss why you need to be absent.
How to create the letter?
You need to know how to create this letter so that you can do it perfectly and formally. You can look at the below tips to get some ideas:
Microsoft Word: Choose Microsoft Word to type the letter in. This is because the letter can be made professionally over here.
Include relevant details only: Do not make the letter long with much detail. Simply inform your employer that your child is ill and needs you to care for them. Tell the boss that there is no one else who can keep care of the child therefore you need to do it yourself. Include the dates that you will be absent for.
Apologize and offer help: I apologize for any inconvenience that you will cause due to your absence. Inform the employer that you are willing to help in any way possible so that no disturbance happens.
When your child is ill and needs care, you are already tense. Do not make it more hectic by forgetting to inform your workplace.
Sample Letter
Charles Oliver
12458 JKI-New Township
New York, United States
17th April 20XX
Nail Jeffery
The Admin
Local Interix Groups
WEI-N2340 JEWR Heights
New York, United States
Re. Please excuse my absence due to childcare
Dear Jeffery,
It is conveyed to you that I am unable to appear at the office due to my childcare at home. I am a senior finance manager in your company and I have a kid of three years who is alone at home today. His mother has a business meeting in Houston, the grandmother is suffering from an ailment and hence there is no one to take care of him. Being his father, it is my complete responsibility to stay with him. I have also tried to contact his uncle who is also busy with his work. So, it is obligatory for me to stay with the child and look after him. I have to provide him by driving to and from school and then I have to stay with him all day.
I shall work from home as I know the workload is getting sheer and enhancing day by day in the office, but I cannot attend the meeting with SHELL Rags Groups. I shall be available for work through email and phone calls as [X], you know, a father cannot rush from his responsibilities at home. I hope you understand my preoccupation and reservation and allow me one day off working from home.
I shall be grateful to you
Sincerely,
(Signature)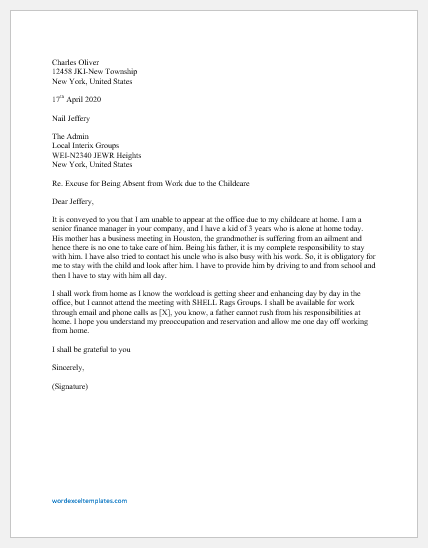 File: Word (.docx) 2007+ and iPad Size 21 Kb |
Download
---