In case of a miscarriage, the employee writes this letter to her employer in order to inform the management. In some cases, employers may demand a witness from a registered medical practitioner. In this particular case, doctors issue a letter as a witness to the employer that such an event has occurred, unfortunately.
In both cases, it is very hard to write this kind of letter. When a baby is born before the 20th week of pregnancy, it will be counted as a miscarriage. Unfortunately, an employee, in this case, will not be entitled to maternity leave. In the case of miscarriage, the employer can grant leave upon the employee's request or after a recommendation from a registered medical practitioner.
Every organization develops a well-defined policy to grant leaves to employees. These are usually listed as casual, medical, maternity, and annual leaves. Sometimes, miscarriage leaves are not included by companies. Employees, in that case, can request unpaid leaves in order to cope with the stress which was caused by miscarriage. Employers, in some cases, use their authority and they may grant paid leaves to such employees which is a great virtue indeed.
As a responsible and professional employee, whatever the situation may be, it is likely to be reported to the employer. The same is the case with this stressful event which must be reported to authorities so that the employee may be granted complete bed rest if suggested by the doctor. Further, informing in written form means that everything is being kept in record and this is beneficial for both, the employer and employee.
Sample -1
Dear Sir,
I am Anna Williams and I am currently working as an office assistant in this organization for the last five years. I am writing this letter to inform you that I am facing many problems in my married life nowadays. I was expecting a baby and was in the third month of pregnancy when, unfortunately, due to some medical reasons, I lost my baby as a result of a miscarriage last month. This event has caused me a lot of health issues including anemia and other gynecological disorders. Consequently, I have lost my health.
Keeping in view the above-mentioned circumstances, I am not able to pay full attention to my work. Therefore, I request you to allow me a one-week holiday. Rest for the requested period has also been advised by doctor and documentary proof is attached herewith. Please entertain my request and give me some time to recover. I shall be very thankful to you.
Regards,
Anna Williams.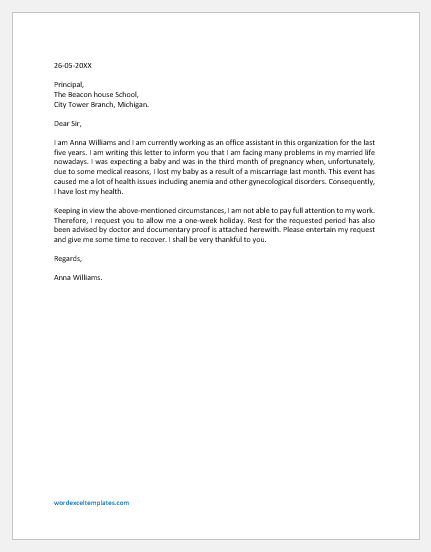 File: Word (.docx) 2007+ and iPad Size 18 Kb |
Download
---
Sample -2
26-05-20XX
Principal,
The Beacon house School,
City Tower Branch, Michigan.
Dear Sir,
I am Julia Philips, working as a senior accounts assistant in this company. I am writing this letter to explain the depth of sorrow I had after an unfortunate event of miscarriage. I had told you earlier that I was pregnant and about to deliver a baby boy. It was my first baby and I had dreamed a lot about him along with my husband. Yesterday, I was going downstairs in my home. Suddenly, my foot was slipped, and I fell from the staircase down by my belly. Meanwhile, I went out of my senses. My husband took me to the hospital, but doctors could not save my baby and this dreadful incident caused the miscarriage.
Later, after a complete medical check-up, doctors advised me to complete bed rest for two weeks in order to recover the complications caused by this incidence. Moreover, I am mentally disturbed as well. So, I request you to allow me to complete bed rest for two weeks. I shall be very thankful to you for this act of kindness.
Regards,
Julia Philips.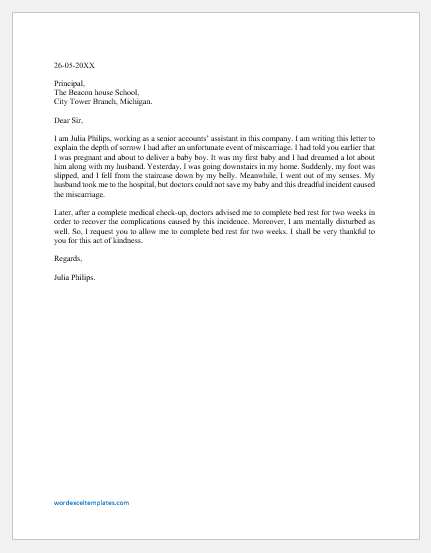 File: Word (.docx) 2007+ and iPad Size 18 Kb |
Download
---