Many employers believe in giving a bonus to their employees when the employee shows good performance at work. This is the way employers use it to encourage employees. It also motivates them to work even harder.
The employee sometimes expects the bonus because it was already pronounced by the boss to reward the employees for good performance. However, sometimes the bonus comes completely out of the blue and surprises the employee. Whether you were expecting the bonus or it was a surprise for you, you should always acknowledge your boss for this act.
One should always choose to write a thank you letter to the boss whether there is a formal or informal relationship between the employee and the employer.
What is thank you letter for bonus pay?
A thank you letter for bonus pay is written for saying thank you to the boss for showing generosity by giving the bonus pay to the employee. The employee is recommended to write a thank you letter to the boss right after receiving the paycheck with the bonus amount.
Why write a thank you letter for bonus pay?
It is very important in the workplace to acknowledge other people for whatever good they do. The boss generally gives a bonus to the employee when he feels that the employee really deserves it. Sometimes, the boss gives a bonus to every employee in the company due to some special events such as an anniversary. You should write a thank you letter to the boss in that situation also.
When you write a thank you letter to the boss, it makes him/her feel appreciated for the good act. The boss then starts feeling that he has made the right decision by giving a bonus to the employee.
It is evident that when you don't acknowledge your boss for giving you a bonus, you are likely to not get a bonus in the future. Although you can meet your boss in person to say thanks to him for a bonus, writing a letter is more effective when you want to put a positive impression on your boss.
How to write a thank you letter for bonus pay?
It should be kept in mind that a thank you letter does not have to be a long note. Writing a few sentences showing gratitude is enough. For writing the thank you letter in an effective way, you should follow the steps given below
As it has always been told, a thank you letter needs not to be too long. Therefore, you should add the purpose of the letter at the very start. Start off the letter with a thank you statement to let your boss know your purpose of writing in order to not waste his time.
Tell your boss that you are feeling grateful because he has acknowledged your hard work by giving you a bonus.
End the letter by thanking your boss again. Affix your signatures along with your name and put the date of writing the letter in the closing section.
Sample Letters
Letter -1
I would like to extend my gratitude to you for providing me with a bonus in addition to my regular monthly salary at this time of the year. Honestly speaking it took me by surprise as we, as employees, do not expect a bonus at this time of the year. It truly makes me feel valued as an employee.
Awards and recognitions like these boost the morale of an employee. It urges him to work harder and with more dedication and honesty. This, in turn, helps in generating more revenues for the company. Therefore, a little investment in the employee in the form of appreciation or award goes a long way for the company and its progress.
In the end, I would again like to thank you for your appreciation. It was an honor working with your company and its employees. I would also like you to know that this monetary gain is very much admired. Looking forward to a new year with greater enthusiasm.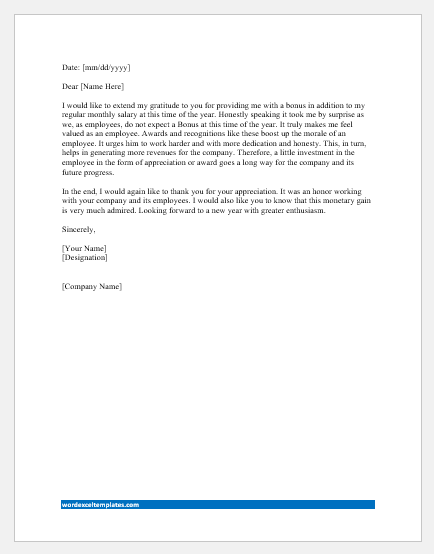 File: Word (.docx) 2007+ and iPad
Size 38 Kb
Letter -2
I was pleased to be informed by the (name of the department/person) that I am getting a bonus this month as recognition of my efforts and dedication for successfully completing the last two projects (name of the projects) under my supervision. I would like to thank you for your appreciation. It really encourages me and boosts my morale to work harder for the benefit of the company. This action of the company is going to set an example for other companies to follow.
At last, I would again like to extend my gratefulness to you for this act of bestowing me with a bonus in addition to the normal monthly salary. I am honored to work in an environment where people acknowledge the efforts that a person puts into his work and encourage him to work even harder. Looking forward to working in your company (name of the company) for many years to come with the same positive attitude.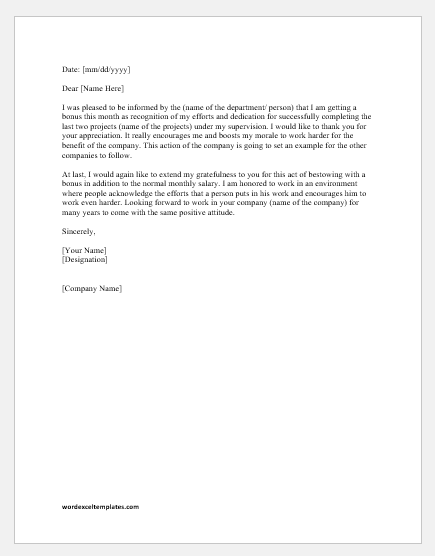 File: Word (.docx) 2007+ and iPad
Size 48 Kb
More Samples
Respected sir, I hope you are doing well. Sir, I want to say thank you for sending the bonus payment. It is really the best way of appreciating employees. Thanks for always encouraging the employees for the work and effort they are doing for the company. Although this year the company bears the financial loss yet you didn't bring any change in policy and send bonuses to all employees. Thank you, sir. It means for us. It encourages us to make more effort. It is our duty if the company car for us then we should also work hard. Thank you once again, sir.
---
Dear sir. How are you? Sir, I am thankful for your generosity. I was surprised to see the message from the bank on the deposit of an amount equivalent to my pay and then an email from your PA about the bonus for all those for the recent project we have completed. Thank you for encouraging and acknowledging me for my hard work.
I feel fortunate about being a part of this company. You have always supported us and appreciate our hard work. The company also cares for the employees and this really means for them. I again want to say thank you for the bonus.