A telephone is widely used as not only a medium of communication but also for recording the important messages that can't be delivered to the receiver as he is not present at the moment. This is an excellent idea and innovation as most of the people feel comfortable with recording the message for the person to hear it later when he is available. In this way, the sender of the message also gets free by simply delivering the message even if the other person if not available.
It is most commonly used in businesses as it makes the communication faster, effective and productive. However, this excellent way of communication is of no use if no proper record is maintained and the receiver is unable to understand the messages.
To overcome this problem, the telephone message log is used. This enables the user to keep a record of all the messages he has received throughout the day along with the details of the sender so that he can be reached later in the day. The best way to make maximum use of this ideal document is to use a template. This offers a perfect base for registering important messages in the user's absence.
Almost all the professionals use this telephone message log so that no important message is missed out. It is expected from the user to clearly repeat the essential details like the name of the caller, his number and most importantly, the message he has to deliver before hanging up the phone. This information is used by the telephone message sheet log as it jots it down on the piece of paper. Many people think that a manual way of writing down the messages is more convenient; however, it is not a professional way of doing it. No matter this telephone message log is being used for a personal or a professional purpose, it is strongly advised to use a template for telephone message sheet. This makes the whole process a lot easier and more efficient.
These templates make sure that all the important information is jotted down on the paper and can keep the record of this information for future references and uses.
Preview and Details of Template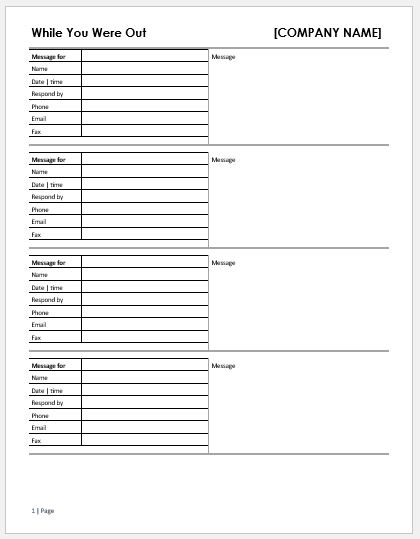 Telephone Message Log Template
File: Word (.doc) 2003+ and iPad 
Size 33 Kb | Download
License: ENERGY [Personal Use Only]
---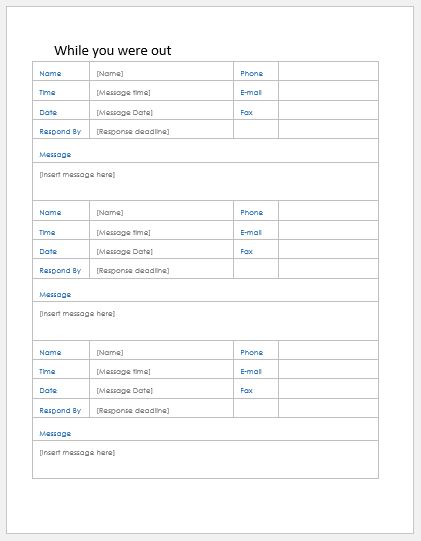 File: Word (.doc) 2003+ and iPad 
Size 34 Kb | Download
License: ENERGY [Personal Use Only]