Assault and Battery
We have received a report concerning an unpleasant incident involving you that allegedly took place on Tuesday, May 13th. According to the report, you were involved in an act of assault and battery against a fellow member of our organization. This behavior is not only against our company's policies but also against the law.
Assault and battery are serious offenses that can lead to severe consequences both legally and within our organization. We prioritize the safety and well-being of employees. Therefore, such actions are not to be tolerated.
You are hereby required to provide a written explanation within three days from the date of this letter, explaining your side of the story. Failure to respond may result in further action being taken against you.
We urge you to take this matter seriously and provide a clear and honest account of the events that took place. Your response will be crucial in determining the next steps in this matter.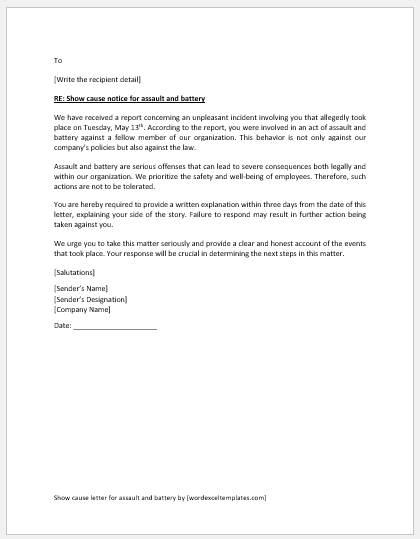 Disorderly Conduct
The management wishes to address a concerning incident that took place on Friday. It has come to our attention that you were involved in a situation that disrupted the discipline at our workplace. Witnesses reported that during lunchtime in the cafeteria, you engaged in a loud and heated argument with a fellow employee, causing unease among your colleagues and drawing attention from various departments.
Let us remind you that such behavior is not in line with the professional conduct we expect from our employees. Our company values a harmonious and respectful work environment where everyone can focus on work tasks without unnecessary distractions. However, your actions on the mentioned date have exhibited disorderly conduct that cannot be overlooked by the higher management.
You are to provide a detailed explanation of the events that took place on Friday and explain your behavior. It's important for us to understand your perspective and the reasons behind your actions before taking disciplinary action against you.
Kindly contact HR for any queries.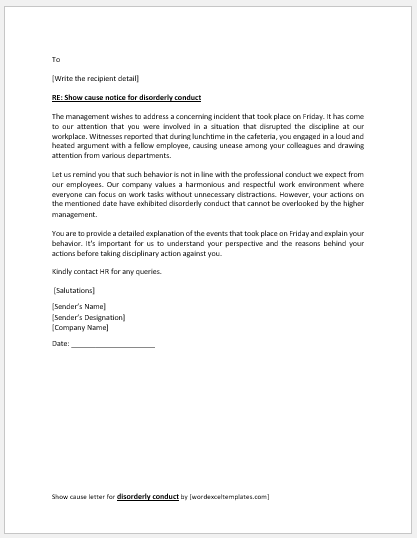 Intoxication
This is in the context of serious concern regarding complaints received against you for being intoxicated during work hours. It has been reported by several colleagues and confirmed by CCTV footage that you appeared to be under the influence of alcohol or another substance during working hours on June 11.
Such behavior goes against our company's code of conduct. Being at work under the influence raises questions about your ability to perform your duties responsibly and professionally.
Given the severity of this incident, the management is considering disciplinary action. You are to appear in a disciplinary meeting on 20th June, 10 am with HR where further plans of action will be discussed.
You are strictly advised to follow the code of conduct and the company's policies to avoid further issues.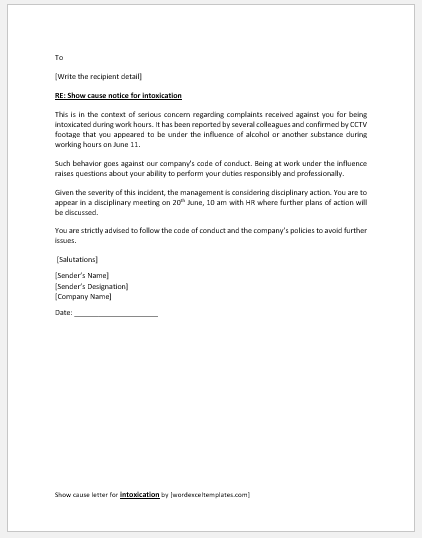 Insubordination
We are reaching out to you in response to a complaint about you made by your supervisor regarding insubordination.
As per his complaint, you openly refused to follow a direct instruction given by him during the team's morning briefing yesterday, May 29th. This act of insubordination was witnessed by several team members and has raised concerns about your commitment to the team and the company.
Insubordination disrupts the workflow, undermines the authority of supervisors, and can negatively impact the overall team morale. As a valued member of our organization, it is crucial for you to understand the importance of respecting the chain of command. You must effectively cooperate with colleagues as well as superiors.
If, however, you still disagree with instructions or do not feel comfortable carrying out an assigned task for any reason, there are appropriate channels and methods to voice such concerns. The organization highly discourages resorting to outright refusal or defiance in front of the team.
Considering the seriousness of this situation, the organization must take appropriate action. You are instructed to attend a disciplinary meeting tomorrow at 9 am sharp. Senior members of the department will be attending the meeting along with the HR team to assess the situation and decide upon a suitable disciplinary action.
These measures will ensure such an unpleasant incident does not happen in the future. It will also reinforce the importance of subordination and respectful behavior towards seniors among all other employees at the office.
You are advised to arrive at the meeting on time.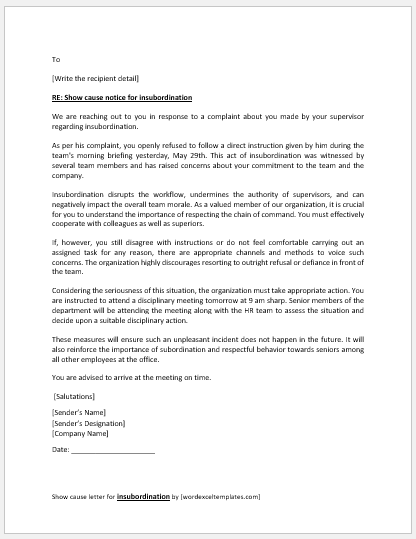 Conflict of Interest
We have recently discovered that you may have a business relationship with ABC Company, one of our competitors. We were not aware of this conflict of interest earlier. However, now it raises serious concerns about your ability to work with dedication and loyalty at our organization.
Having a vested interest in a competing company can compromise the trust we place in our employees. It's essential for all team members to act in the best interest of our organization without any divided loyalties.
We would like to discuss this matter further in a disciplinary meeting scheduled for Wednesday, March 23. During this meeting, we will review the details of your involvement with ABC Company.
Please prepare to provide a clear explanation and any relevant details. Your perspective is important in helping us understand the situation better. This will affect the decision the organization makes regarding your future here.
Kindly contact Mr. XYZ for any queries and meeting updates.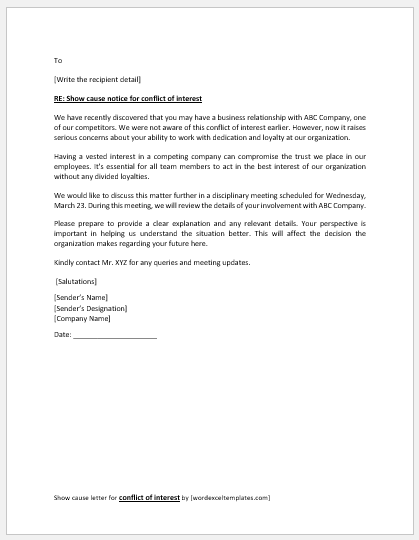 Theft
The management has been alerted to a shocking incident that took place yesterday in the office. Security footage and inventory logs suggest that you took items from the storage room without proper authorization. Be informed that theft is a serious violation of our company's trust and policies.
We are currently reviewing the evidence and considering appropriate disciplinary actions. The matter is being handed over to the HR team for further investigation. In the meantime, you are being suspended for a period of one week.
You may contact HR for further information and queries.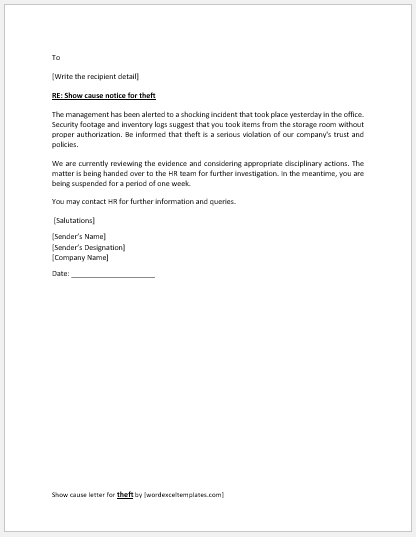 Fraud
This is with reference to the discrepancies discovered in the financial reports you submitted on June 24. These irregularities raise serious concerns about potential fraudulent activities.
The organization is going to perform a thorough investigation. Depending on the findings, disciplinary actions may range from a formal reprimand to your termination of employment. However, before finalizing our decision, we would present you with an opportunity to explain your side of the story.
Please provide a clear explanation regarding the mentioned discrepancies within the next two days. Failing to do so will jeopardize your future at the company.
We expect to hear from you soon.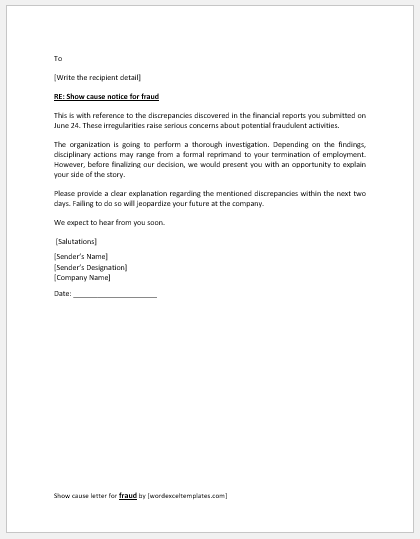 Sexual Harassment
We have received a complaint alleging that you were involved in an incident of sexual harassment in the office. Two witnesses have confirmed the authenticity of the complaint.
Sexual harassment is a grave offense that can lead to severe consequences. Based on our internal review and the evidence provided, you may face disciplinary actions which could include suspension or even termination of employment.
Your case is under review as we are carrying out further investigations and checking the evidence collected from the CCTV footage. As soon as the investigation process is complete, the organization will take an appropriate decision regarding what disciplinary action to take against this intolerable offense.
You may contact your supervisor for further queries.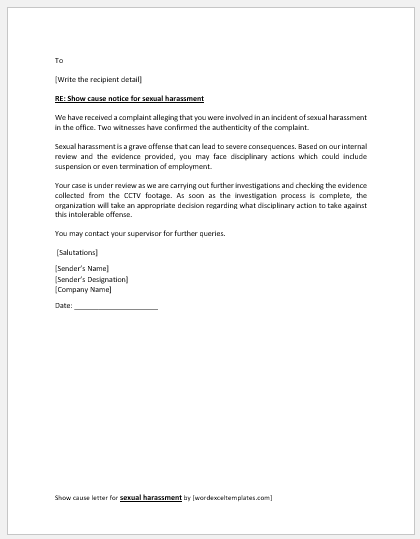 Participation in Illegal Strikes
This is in response to your participation in an unauthorized strike on August 16. Such actions disrupt our operations and breach our company's code of conduct.
According to the company's terms of conditions, participating in illegal strikes can lead to disciplinary actions, including written warnings, suspension, or even termination. However, since you are one of the key players in our team, we are not going to take drastic action that might jeopardize your career or the company's performance. For now, you are being suspended from work for the next 2 days as a consequence of going against the company's terms and conditions.
You are strictly advised to go through our policies and avoid being involved in anything that conflicts with our rules and regulations.
We hope you take this seriously and avoid such situations in the future.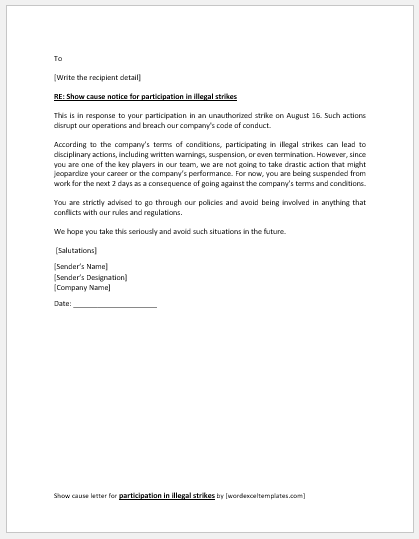 Issuing Statements without Approval
We are writing with reference to the statement you provided on a social media channel regarding the company's launch plans for XYZ product. This unauthorized communication has the potential to misrepresent our company's stance and can lead to misinformation.
Issuing statements without approval is a breach of our company's communication protocol. Such actions can undermine our company's reputation and trust with stakeholders.
Given the severity of this situation, you are going to face disciplinary action. Please make sure this situation does not happen in future.