#1 Show cause Letter Reply for Misconduct
Re. Responding to the Show Cause Notice for the Misconduct in the Conference Room on [date]
Dear Mr. [name], I am writing this letter to respond to the show cause letter that was sent to me by the HR Manager on behalf of you for the misconduct committed by me. I am here to explain why I did that and what situations led to that.
Sir, on [date], in the conference room, I along with the newly made team for the marketing and content management of the new product, i.e., [product number], settled to discuss the methodology of the project. As you know, I have been recently promoted from the position of senior content writer to the marketing manager of the company. The teammates started making fun of my position and taunted my late promotion in different ways. Most of them were in a state of bullying me. Due to this, I lost my temper and screamed over them.
I tried to avoid the situation by converting the conversation back to the main point of discussion, but they incited me into a dispute. I hurled a hand at one of the employees after losing my temperament. I apologize for doing this as it does not comply with the rules and bylaws of the company. I assure you that I will try to stay calm and practice peace in the future.
If you need more details, we can meet in the office. Thank you.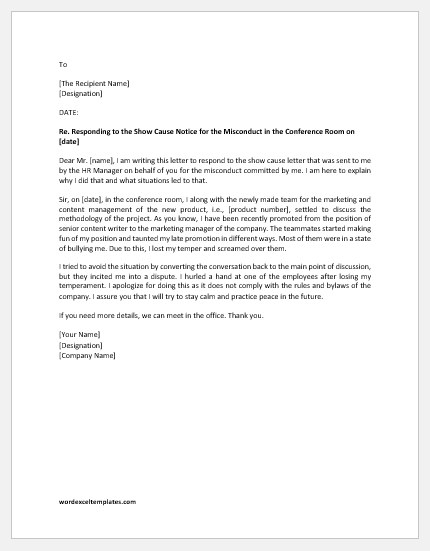 #2 Show cause Letter Reply for Negligence
Re. Show Cause Reply for Negligence in the Construction Project; Project No. [xx]
Dear Manager,
The letter has been written to respond to the show cause letter for the negligence in project no. [x]. The project deals with the construction of ABC Groups and Commercial Hub. I understand the immense importance of this project. The project keeps an eminent position in the construction business world; however, minute negligence brought some inconveniences to the project details.
While sending dossiers to the client, I made a minor mistake which was a typographical error in the cost efficacy of the project. The client misunderstood the digits and repudiated the offer by terminating the contract. Sir, I sent them an email of re-correction to which they responded positively. Their HR manager has reviewed the situation and further processes are under review.
I am sorry for my negligence; however, I understand such human errors are part of life. I am also of the view that we should work hard enough and with high precision and accuracy. I promise to not do such a mistake again. Thank you.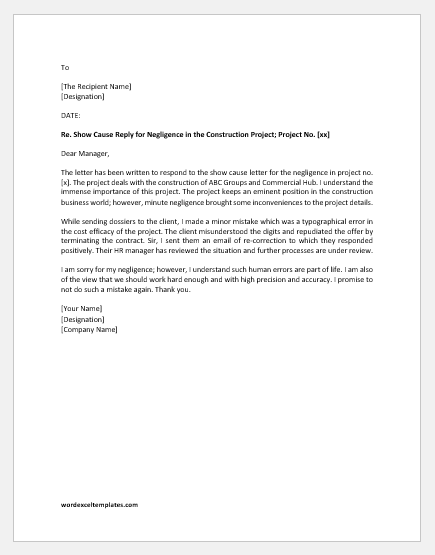 #3 Show Cause Letter Reply for Poor Performance
Re. Show Cause Notice Reply
Reverend Director,
I received your letter of show cause notice on [date] for the poor performance indicated in the performance appraisal report of the [month name]. I am writing to explain my position and show the cause behind my low performance at work this month.
Sir, I am a single parent of a 7-year-old boy. My boy has been sick during [month name]with pneumonia which has been converted from typhoid. As you know conversion from one type of fever to another type is always very serious and considered bad. Therefore, I could not concentrate on my work due to my continuous focus at home on my child.
My son is doing better now. I have attached his prescription from National Health Service (NHS) as evidence. I always have tried my best to give my full but the worrisome conditions at home kept my focus from work. I am ashamed of any inconvenience caused because of my poor performance. I shall be more active and focused on work in the future.
I am looking forward to your kind response.
Thank you.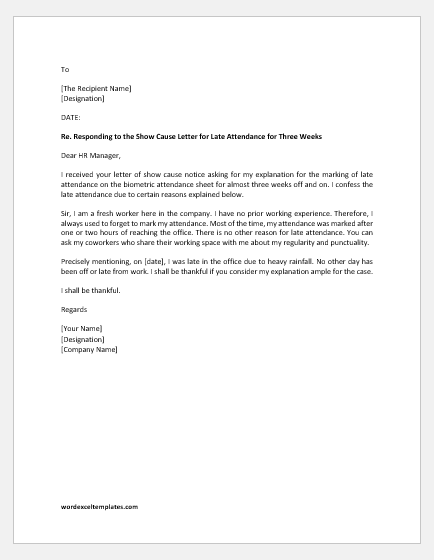 #4 Show Cause Letter Reply for Late Attendance
Re. Responding to the Show Cause Letter for Late Attendance for Three Weeks
Dear HR Manager,
I received your letter of show cause notice asking for my explanation for the marking of late attendance on the biometric attendance sheet for almost three weeks off and on. I confess the late attendance due to certain reasons explained below.
Sir, I am a fresh worker here in the company. I have no prior working experience. Therefore, I always used to forget to mark my attendance. Most of the time, my attendance was marked after one or two hours of reaching the office. There is no other reason for late attendance. You can ask my coworkers who share their working space with me about my regularity and punctuality.
Precisely mentioning, on [date], I was late in the office due to heavy rainfall. No other day has been off or late from work. I shall be thankful if you consider my explanation ample for the case.
I shall be thankful.
Regards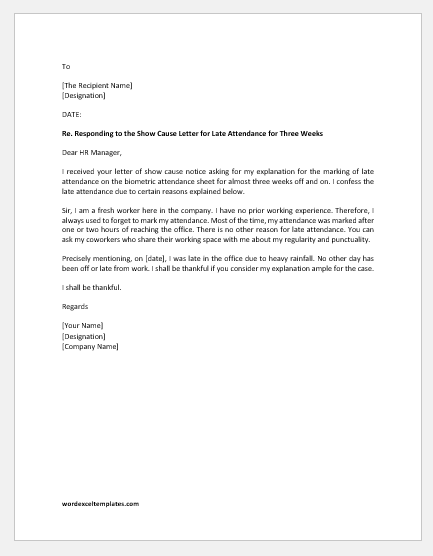 #5 Show Cause Letter Reply for Absenteeism
Re. Show Cause Letter Response
To the concerned authorities,
I am [name], the [position] from [name the department]. I have been served with a show cause notice letter from Human Resource Management asking for the constant uninformed leave from work from [date] to [date]. I am penning to explain why I was unable to come to the office without informing the concerned personnel.
On [date] while going back home from the office, on my way, I fell from the escalator of [specify the name/location of the subway station] subway station due to the wrong step. I fell from five steps and broke my shoulder bone. I was shifted to the hospital immediately. I was five first aid and all the required treatment. The doctor prescribed me complete bed rest and proscribe using a phone or laptop. I remained in the hospital under the strong observation of a doctor for five days.
I was unable to move my arm due to a shoulder break, therefore, I could not inform anyone from the office. My phone remained switched off during these days.
However, I asked my aunt to inform any colleague of mine who could inform the concerned department. Upon coming back to the office after complete recovery, I came to know that Mr. [name] resigned from the office.
I have attached the doctor's prescription and other attested documents to substantiate my explanation. I am looking forward to hearing from you if any.
Thank you.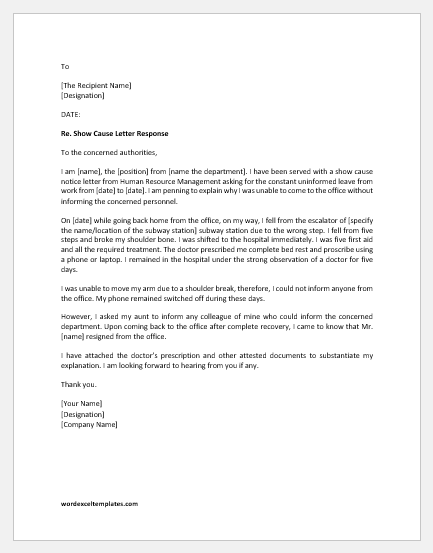 More sample letters