Sample Email 1
Dear Santa,
As Christmas is approaching, I just want to remind you that I have been a very good boy this whole year. Although you must be busy in all the Christmas preparations, please spare a few minutes to read about how good I was and then please fulfill your promise as I fulfilled mine.
Throughout the year, my marks remained in the higher percentile and all my teachers were not just happy with my results but my demeanor as well. You can see my report card (I am attaching a scanned copy in this email). At home, I did not fight with my siblings rather I helped my mother in taking care of my two baby siblings. My neighbors were also happy with me as I mowed their garden twice without any incentive.
I have selected a few gifts and you can choose any of them to reward me:
Harry Potter Series (all books)
Any five dinosaur movies
T-Rex costume
Stationery set
Merry Christmas!
Love,
Jacob Will.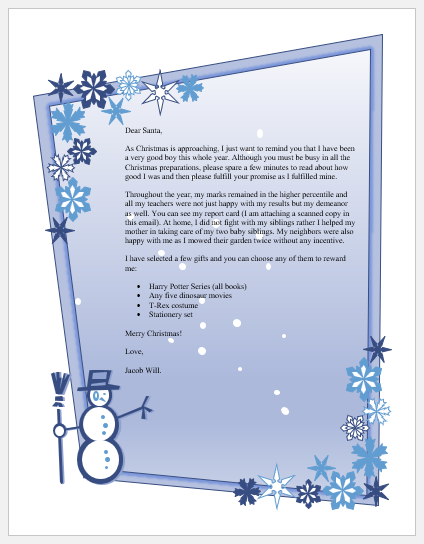 Sample Email 2
Dear Santa,
When I did not receive my favorite gift last year because I was not very good at so many things, I got disappointed but then I promised myself that I will be a very good girl this year to get my desired reward from you as a gift. I also wrote an email to you before and told you about my disappointment and promise for the future.
This year, you can ask my mom, I behaved so well that all of my relatives were amazed. My neighbors checked about my health from my mom when they did not see my naughty activities. My mother told them that I am being nice to impress Santa.
My teachers were glad that my results improved and they called my parents to tell them about the overall goodness they saw in me.
I hope you are happy with me this year and give me a gift that I want. You can choose any from my list:
Barbie house
Teddy bear (a big one)
Talking Doll
Come soon! I am waiting! Merry Christmas!
Your nice girl,
Stacy Josh.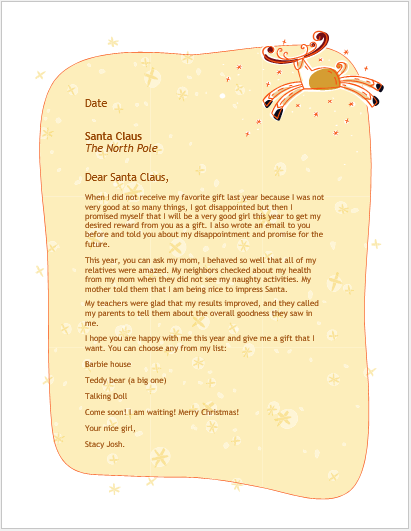 Sample Email 3
Dear John,
When I got your name from the list, I was happy as I have worked with you closely this year. I was happy because I now know you well than before and know how good a person you are. Plus, working and spending time with you made me know of your choices so that I can choose an appropriate gift for you.
Working closely with you on different projects this year revealed to me your hardworking nature and sometimes your motivation level actually escalated mine. Thank you so much for being such a cooperative colleague. I hear only good remarks about you always from all of our office colleagues.
Now you must be wondering who I am! Well, keep guessing until you unravel the secrecy of my name. Your secret Santa has really put a thought in your gift so I hope you like it. Keep being awesome and search for me among your colleagues.
Love,
Your secret Santa.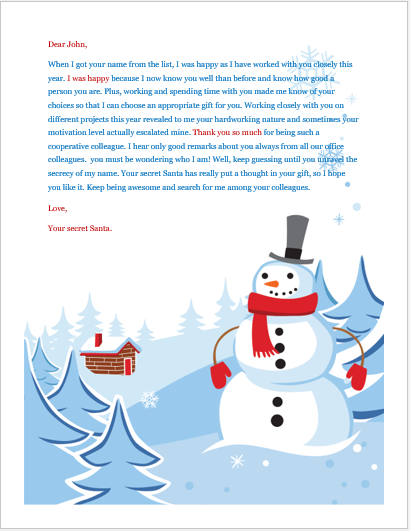 Sample Email 4
Dear Jennifer,
Ho, ho, ho! Guess, guess, guess! You cannot guess the name of your secret Santa! But I know you well enough to choose your favorite gift.
You have always been a wonderful colleague to work with. I cannot forget how many times you have helped me in preparing my lectures and presentations. Anyone working in the school can see your friends and helping nature.
I am glad the school started this secret Santa game among the teachers this year as I got a chance to repay you with your favorite gift. I hope you like it. Always stay the same!
Merry Christmas!
Your Secret Santa friend.