Undertaking a research project in one's area of study can be a valuable endeavor for students seeking to make a meaningful contribution to their field. As dedicated researchers, students are always eager to explore ways to improve the world around them. Approval and supervision of these projects are the responsibility of a professor at the institute.
What is a request letter to a professor to accept for a research project?
When a student seeks to undertake a significant research project, they must compose a letter of request to the professor outlining their goals and objectives.
When to request a professor for a research project?
To avoid missing the right time to submit a formal request, students must know when to write an application letter for a research project. Typically, students start a research project in their final semester, and they need to convince their supervisor to allow them to start working on it. Students can also need to submit an appeal letter when they discover that their project requires both manpower and financial support, which they cannot obtain without their professor's approval.
In some cases, the process of initiating a research project can be challenging and requires the assistance of a senior, such as a professor. Students should not hesitate to reach out to their professors and submit a request letter to seek their guidance and support.
How to write?
Here are some guidelines to follow if you wish to communicate with your professor and seek their approval.
Introducing yourself and your research area:
When reaching out to your professor to request approval for a research project, it is essential to start by introducing yourself and the research area you belong to. This information is critical as professors often assess applications based on the potential for research in the chosen area. Be sure to provide all the relevant details about yourself and your research field.
Discussing your research project:
Since the ultimate goal of your request is to initiate a research project, it is vital to discuss the project in depth. Explain your project in a way that convinces the professor that you are genuinely committed to contributing to the field. You should also describe the intended contribution you hope to make through your research. By doing so, you can persuade your supervisor to grant the approval you need to proceed.
Making a formal request:
Once you have provided sufficient details about your research project, it is time to make a formal request to your professor to allow you to start working on the project. Ensure that the request is professionally written and effectively conveys your enthusiasm and energy for the project. Make sure to leave a lasting impression on the reader, indicating that you are a determined and ambitious individual eager to contribute to the field.
Provide relevant information:
When making a formal request to a professor for approval to start a research project, it is crucial to provide all necessary information related to the project and your qualifications. This will help the professor understand the project's scope, your research potential, and your capability to carry out the research.
Be clear and concise:
When writing your request, make sure to not elongate and describe the matter straightforwardly. Use polite language in your request and express your gratitude for your professor's time and consideration.
Follow the correct format:
When writing a formal request letter, it is important to use the correct format. The letter should include a heading that includes your contact information and the date, a formal greeting, a body that clearly and succinctly explains your request and the specific details of the research project, and a closing that expresses appreciation and includes a formal sign-off. Be sure to proofread the letter carefully before submitting it to ensure that it is error-free and professional-sounding.
Sample letter (Short)
Date:
Name of the professor:
Name of Department:
Subject: Request to accept research project
Dear Sir,
I am (state your name), a student of (tell major) in the (tell semester). I have worked with my supervisor (tell me which area you have worked in). I wish to pursue a research project so that I may solve issues in the (tell your industry). To pursue the research project properly, I will need to work with people in different areas. I will require funds as well. The approval of this research project from your side can help me. I would like to request that you let me work on this project. Thank you for your consideration.
Sincerely,
Name of student
Name of Department
Signatures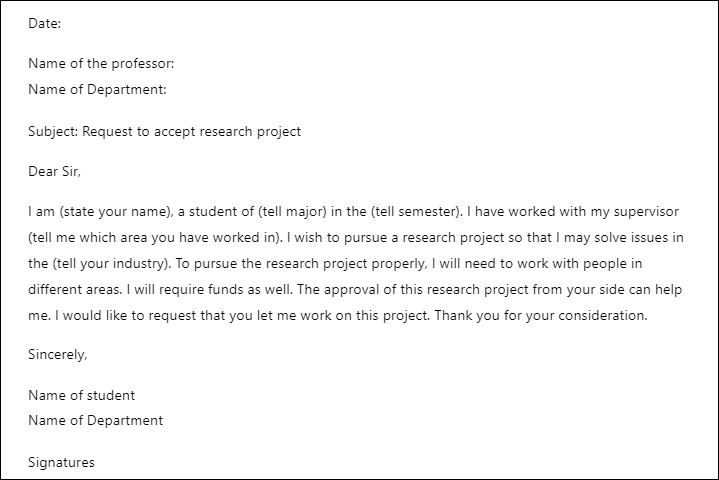 Sample letter (detailed)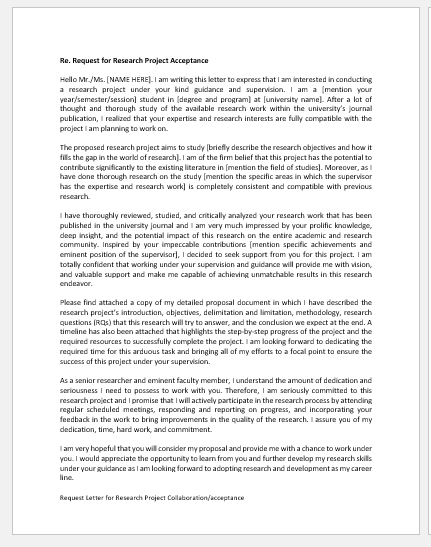 Sample letter (Comprehensive)