This is a formal letter that only those people write who have perceived that there are more employees required to make a company work at a normal pace. They write the request letter to those people who have the potential to work on a particular vacancy or who qualify to be in a particular post.
The basic objective of every person writing this letter is to entice people so that they can show their willingness to work on a specific post. Sometimes, the people to whom you make the request are already working somewhere and you need to put extra effort to convince them to fill up the vacancy available in your company.
So, your request letter should be strong enough to make an impression on the reader and compel him to join your company.
When you write a compelling request letter, you can get those people to fill up the vacancy who you think are qualified and eligible for the post. Every employer wants to hire people that are most suitable for their company. Generally, interested people share their resumes when they find a job opportunity up for grabs.
However, in some special cases, employers write this letter when there are some special skills or qualifications required. Due to this letter, they successfully find candidates with the required skill level and experience and fill up the post available in the company.
1
Position vacancy: ACCOUNTANT
DEPARTMENT: accounting and finance
Job description:
ABC company is seeking an accountant who is adept at handling day-to-day accounting tasks seamlessly. The company requires your services as your resume meets the requirements of the vacant position.
The description of this vacancy is given below:
Salary: 45669$ annually
Bonus: 15% on a good performance
Retirement recognition of employee: 10% of the total salary
Salary increment: 20% of total salary once a year
Due to the lack of employees in the company, existing employees are forced to work 3 to 4 hours extra every day. We want you to join our company to gain experience.
Working for ABC Company will add value to your profile and will equip you with the experience that you will need to fulfill your accounting career requirements.
If you are interested in joining us, we will welcome you wholeheartedly. Furthermore, you can meet us in person and negotiate with us. We are looking forward to a kind response from you.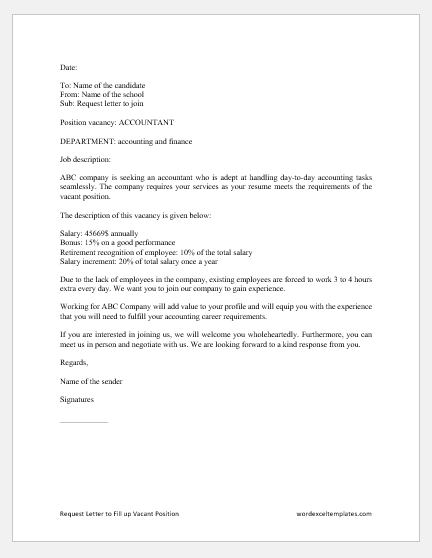 2
Sub: Request letter to join
ABC School is seeking talented and educated teachers to occupy the post of secondary school teacher for the subject of Physics. The school has a very handsome salary package for its teachers.
The benefits include bonus details are given below:
Salary: 65669$ annually
Bonus: 15% on a good performance
Retirement recognition of employee: 10% of the total salary
Salary increment: 20% of total salary once a year
All these terms are negotiable.
The secondary school teacher of physics will perform the following job responsibilities:
Designing a comprehensive lesson plan
Establishing a learning environment in the classroom
Making use of technology to indoctrinate students with basic and advanced principles of physics
Forming a friendly and respectful bond with pupils so that they can comfortably have discussions in the classroom
From your resume, we have come to know that you have a background related to physics and are also an experienced person. We believe that you can prove yourself to be a valuable part of our organization. We would love to see you as a part of our educational institute as a respectable teacher.
It is our humble request to you to please join our school and be a part of its educated and qualified staff. If you have any questions, you contact us for organizing a meeting with you. We are looking forward to a positive response from your side.