Sickness is a natural process we all humans have to go through. Everyone falls ill and due to this, there are many rights for employees when they are sick. Employees are allowed to go on leave when they are not feeling well. They can also come to the office late. However, their boss always needs advance notice from their side so that they can manage everything even in their absence.
When an employee is late, it is another type of problem. Employers often have a serious issue with tardiness, and they consider it a serious violation of the company's rules and ask the guilty person to write an explanation letter.
How to write an explanation letter due to illness?
Explain clearly:
You should be in doubt in terms of what you are trying to say. Tell your supervisor that you were unable to come to the job because of the illness you were going through.
Explain your illness:
Although it is not important, you should explain the medical issue to you. Mention that you could be absent from work but since you got better, you decided to reach the office to fulfill your job duties.
Apologize unconditionally:
Let your supervisor know that you never wanted to be late, but you were compelled to be late since things were not in your control. Let him know that you are feeling bad for putting everyone in trouble. Say sorry for being late.
Sample
I am writing this letter to state that today I was late from office because of an illness. For the past few weeks, I have been suffering from morning sickness and due to this, I feel so down and tired in the morning. Today, I was feeling like throwing up. I could not even move my body.
When I woke up, I was feeling much better and therefore, I decided to get up and go to work. I could be absent from work, but I decided to gather courage and get back to work.
I know that coming to the office late is never acceptable and everyone is supposed to show up on time. However, I believe that after reading my explanation, you will understand what made me do that.
I am sorry for coming to the workplace late and putting everyone in trouble. I should have communicated my condition, but I was not in the position to contact anyone. I hope that you will understand my problem.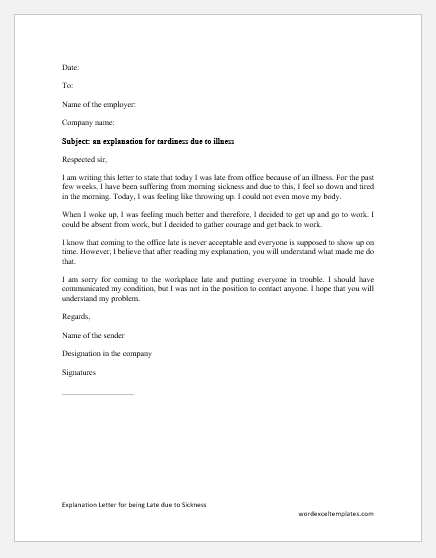 2
I sincerely apologize for being late to work. I am writing this letter in response to the letter from the HR office in which I have been asked to write an explanation.
I was late to work yesterday because of a severe headache. I am a patient of migraine, but I never let them affect my work life. I never had a headache in the morning until yesterday. With this headache, I was unable to move and do anything. I tried a lot to get up and get ready for the office but all in vain.
I took my medicine and decided to sleep. After some time, I started to feel better. I decided to come to the office because I was worried about the work that I had to submit.
I am a responsible person who is always worried about meeting deadlines, submitting his work, and living up to the expectations of my supervisor. You can check my attendance; I have never been late to work. I value my time and respect the policies of the company regarding adherence to office timing.
Thank you so much for giving me a chance to clear my position. I hope that you will understand my situation after this letter. Moreover, I will try that this does not happen again.