In a formal setting, a person is always required to follow timings. Those who don't reach anywhere on time give the message that they don't respect their and other people's time. In companies, employees are always asked to respect the office timing so that they don't cause inconvenience to others. When an employee reaches the office late, the employer might ask him to write an explanation letter.
It is a formal letter in which a person has to give an explanation as to why reaches the office and explain the reason behind it. Since your reason is transportation, you will explain it in detail.
An explanation letter is considered an important piece of writing and people are advised to write this letter with care as the reader has already shown interest in it and he wants to read the letter and get information out of it. He might judge you based on how you explain.
Writing explanation letter…
Although it is an explanation letter, you should not write a letter that is too long. Try to explain things in a concise way
Since the reason is transportation, don't forget to mention the transportation problem you have faced
Make sure that what you write in the letter makes sense to the reader and that it does not look as if you are trying to fabricate anything
Use professional language and tone to look professional and serious
Read the sample explanation letter given below:
1
I am writing this letter in response to the letter from the office of HR that I received yesterday. I have been asked to explain why I was late on the said date.
First of all, please accept my apologies for coming to the office late. I understand that things become very complex when employees don't reach the workplace on time. I fully take responsibility for the inconvenience the company has faced because of me.
I was late because of severe congestion on the Express Road. This road is busy all the time but, on that day, there was some problem on the road. I had no intention to reach the office late. I even asked the driver to find an alternate way but the van was badly stuck in the traffic. All the passengers in the van were worried.
I again apologize for coming to the workplace late. I hope that you will understand my situation. I assure you that this will not happen again as I have decided to leave the home 20 minutes earlier than usual so that I am never late even if the traffic is blocked.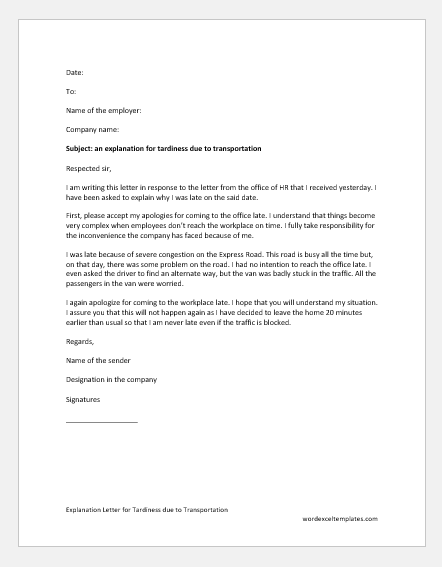 2
I am sorry for not being able to send you the application on time. Everything was so sudden and I was unable to decide what to do. I was late from the office on Monday because of the transportation problem in my area. There was a protest being staged by transporters due to the sudden hike in the petrol prices. There were not providing transportation services because they were not allowed to increase the fare
During the tussle between the transporters and the government, innocent citizens like me suffered only. I know reaching the workplace late is very unprofessional behavior and it should never be accepted.
I would like to let you know that I had no plans to be late for work. This all has happened because of the transportation problem. If you want to know more about it in detail, you can organize a meeting with me.
Thank you so much for allowing me to explain the situation to clarify my position. I hope that you will understand my situation.