Re. Request for Research Project Acceptance
Hello Mr./Ms. [NAME HERE]. I am writing this letter to express that I am interested in conducting a research project under your kind guidance and supervision. I am a [mention your year/semester/session] student in [degree and program] at [university name]. After a lot of thought and thorough study of the available research work within the university's journal publication, I realized that your expertise and research interests are fully compatible with the project I am planning to work on.
The proposed research project aims to study [briefly describe the research objectives and how it fills the gap in the world of research]. I am of the firm belief that this project has the potential to contribute significantly to the existing literature in [mention the field of studies]. Moreover, as I have done thorough research on the study [mention the specific areas in which the supervisor has the expertise and research work] is completely consistent and compatible with previous research.
I have thoroughly reviewed, studied, and critically analyzed your research work that has been published in the university journal and I am very much impressed by your prolific knowledge, deep insight, and the potential impact of this research on the entire academic and research community. Inspired by your impeccable contributions [mention specific achievements and eminent position of the supervisor], I decided to seek support from you for this project. I am confident that working under your supervision and guidance will provide me with vision, and valuable support and make me capable of achieving unmatchable results in this research endeavor.
Please find attached a copy of my detailed proposal document in which I have described the research project's introduction, objectives, delimitation and limitation, methodology, research questions (RQs) that this research will try to answer, and the conclusion we expect at the end. A timeline has also been attached that highlights the step-by-step progress of the project and the required resources to successfully complete the project. I am looking forward to dedicating the required time for this arduous task and bringing all of my efforts to a focal point to ensure the success of this project under your supervision.
As a senior researcher and eminent faculty member, I understand the amount of dedication and seriousness I need to possess to work with you. Therefore, I am seriously committed to this research project and I promise that I will actively participate in the research process by attending regular scheduled meetings, responding and reporting on progress, and incorporating your feedback in the work to bring improvements in the quality of the research. I assure you of my dedication, time, hard work, and commitment.
I am very hopeful that you will consider my proposal and provide me with a chance to work under you. I would appreciate the opportunity to learn from you and further develop my research skills under your guidance as I am looking forward to adopting research and development as my career line.
Thank you for considering my request. I am looking forward to your reply. If you have any questions related to this research work or want to discuss the work in detail, I am available for interviews and meetings at any time.
You can contact me on [phone number] or [email]. I am very passionate about this research project and want to do it necessarily under your supervision. Thank you for reviewing my letter.
Truly,
[Student's name]
[Session]
[Program Name]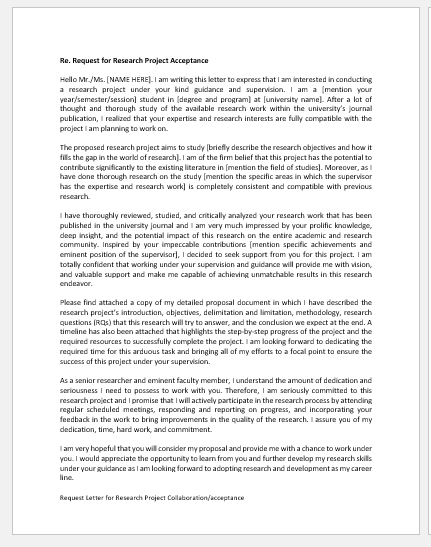 #2
Re. Request for the Acceptance of Research Project Pending
Dear [Professor's Name],
I am [mention your name] from the [mention semester, section, program, and department]. Sir, I started working on a research project under your supervision on [date]. The deadline for the submission of the research project was [date] but I could not meet the deadline due to existing errors in my research.
When I got my research work reviewed by my colleagues and friends, I realized some certain mistakes in my work. The errors included formatting mistakes, citation problems, and some grammatical and conceptual errors. Hence, I have revised my research work and corrected all the errors and potential discrepancies in it. However, the deadline has passed and I have lost access to my portal to submit the research project.
I worked very hard for this research project by keeping in view the research ethic, prescribed methods of conducting data collection, and incorporating it into the research. Sir, I have worked very hard for a full semester on this project, therefore, I request you to accept it. Owing to the above-described explanation, I request you allow me access to the portal where I can submit my research project. I will be very thankful to you if you accept my research project by releasing the portal access.
Regards,
[Name]
[Semester]
[Degree]