We write a request letter for quotation to suppliers or service providers when we want to know at what rates they are willing to provide their services. When we want to rent a hotel room for temporary accommodation and we have a limited budget, we can ask the hotel management to provide us with a room quotation. This way, we will be able to know which hotel has the cheapest rate to offer a room.
It is a formal letter in which we write a request by telling the management of the hotel that we want to book a room in their hotel and therefore, it is important for us to know the price.
Writing a professional letter is not a big deal. It can be done in a simple way by following the basic format. Here you know what to include as a basic requirement:
Give your introduction:
Let the reader know about your business and your purpose for staying in the hotel room. Make it clear that you want to book one or more rooms in the hotel.
Be clear:
Mention the date on which you require a room and then also state the reason behind it. Make sure that you are clear about your purpose and the days on which you need the room.
Write a formal request:
At the end of the letter, make a request to the reader and tell him that you need to know the price and discount they offer so that you can be in the position to make a decision as to whether you should rent a room in that hotel or not.
Read two sample letters to see how a request is drafted when you want to get a quotation for a room:
Sample letter 1:
Subject: A request for hotel room quotation at [X]
Dear Sir/Madam,
I am ___________ (mention your name), owner of ABC Enterprises. My company is based in (mention the location) and we often send our employees to different cities for work purposes. Therefore, I would like to know about the price of booking the hotel. It is humbly requested to you to please share the quotation for your prestigious hotel.
I am looking forward to booking approximately 10 rooms in your hotel from ________ (mention the date) to _______________ (mention the date).
These rooms are required to be booked because my employees will have to stay somewhere temporarily to complete their work.
It would be very helpful for us if you share quotation details with us at your earliest convenience. Thank you so much for your cooperation. We write back to us or make a phone call at [contact].
Regards,
Name of the sender
Sender's designation in the company
Name of the company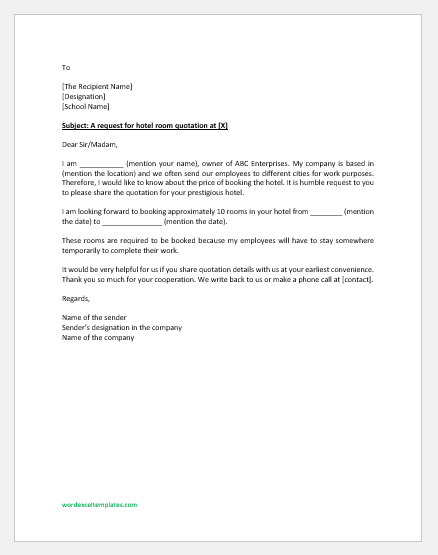 Sample letter 2:
Subject: Requesting quotation for [X] hotel's room at [ABC]
Dear Sir/Madam,
I hope this letter finds you in good health and spirit. We are writing to you because we want to reserve some rooms in your hotels. However, we would like to know about the price of renting a room for one day.
We would like to reserve 5 bedrooms in your hotel for a period of a week. The room will be reserved from ___________(mention the date) to _____________ (mention the date). My family and I visit the Northern area twice a year during summer and winter break. We have heard a lot about your hotel because of the quality services and hygiene. Therefore, we have decided to rent a room in your hotel.
We will need to rent rooms in the future also. Therefore, we would like to know about the quotation so that we can know how much it will cost us to book a room in your well-reputed hotel. Please also mention in the hotel how much discount you offer to first-time visitors as well as those who become your regular customers.
We look forward to a reply with the quotation details from your side. Thank you so much for your cooperation and assistance. If you need to know anything, please feel free to contact us.
Regards,
Name of the sender
Address