A rent roll is a document that gives a detailed listing of all the rental properties the user owns. The main users of this roll form are either the landlords or the rental agencies that have too many properties to keep a track of. Managing the tenant records is not an easy task for them that is why they take help from this rent roll form.
This rent roll form is also known as a register of rentals and it gives an easy platform to record all the details like the contact and address of the person in question, the due date of rental payment and the date of renewal of the rental contract. For the best use of this rent roll form, a template is made which ensures a clean and easily understandable format.
Rent rolls are used for a variety of reasons which include tracking the due amount from each tenant within the due date. It is the most important tool that is used in the real estate industry and by simply modifying a bit in the template of rent roll form, a lot of mess can be avoided.
When it comes down to the recording of the details about the tenants and the rental related to it, rent roll form can come in handy for the user. There are many options for a user to choose from. He can either draft the whole form on his own or can simply download the ready-made template. If one wants an easy life and save a lot of extra time and effort, he should opt the second option and should go for a rent roll form template.
The form will have all the necessary details already jotted down on the pre-drafted format. All is needed on a user's part is to make the appropriate changes. The template may include fields like the name of the real estate company and the landlord. Other than that some spaces are allocated to the filling of the name of the tenants, description of each of the building in question, the agreed amount of the rent and the date due for this payment by the tenant.
Preview and Details of Template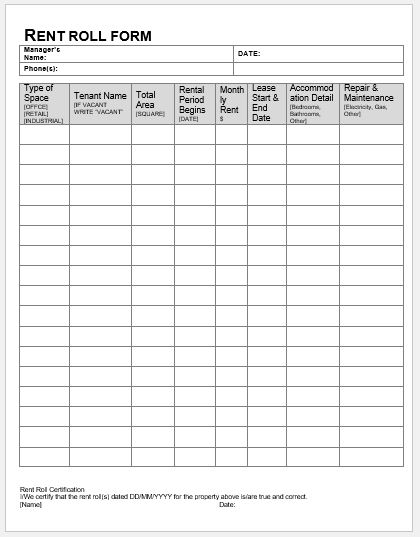 Rent Roll Form Template
File: Word (.doc) 2003+ and iPad 
Size 33 Kb | Download
License: ENERGY [Personal Use Only]
---
Landscape Format